Day 1 at CoinGeek Zurich conference saw an action-packed agenda of speakers, panel sessions and presentations, covering a mind-boggling array of real-world applications for BSV enterprise blockchain. CoinGeek's own Charles Miller and Claire Celdran caught up with Calvin Ayre and Connor Murray for the premiere of CoinGeek TV, where they discussed the conference and some of the key issues affecting the future direction of the BSV blockchain.
Ayre, founder of Ayre Group and CoinGeek, first spoke of his morning session highlights, including Steve Shadders' demonstration of 50,000 transactions/second volumes.
Noting that Shadders himself said he had witnessed as much as 100,000/second—a first in the market—Ayre said that was the definitive proof that the BSV blockchain actually works as intended, and has the technological prowess to deliver the solutions needed for enterprise scale. He said it means people can no longer suggest Bitcoin SV isn't real—it's here, and it's already beginning to make waves.
Ayre also pointed out how Switzerland was a key strategic location for the BSV network, not just as a launchpad into German-speaking markets, but also as an emerging hub for the sector. As the location of Bitcoin Association, TAAL Distributed Information Technologies Inc. (CSE:TAAL | FWB:9SQ1 | OTC: TAALF), nChain and others, Zurich was also a natural choice for a CoinGeek Conference, helping put BSV blockchain on the map in the region.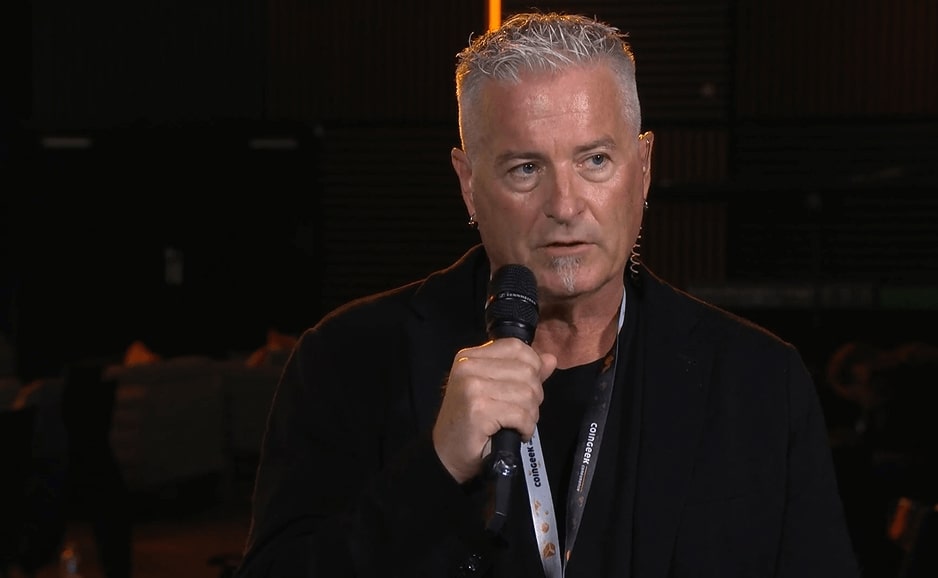 Asked about the impact of COVID-19 restrictions on events like CoinGeek conferences, Ayre said it was fortunate that the ecosystem had continued to grow strongly throughout the period, with influential developers still able to carry on their work from home. Emerging at the other side of the pandemic, he said he had consolidated the number of influencers in government and enterprise who understand BSV blockchain's value lies in its utility, the blockchain of choice for enterprise scale projects.
"I don't really think that there's been much of an impact because the ecosystem keeps moving ahead with people working at home, so I don't think there's a major impact," Ayre said. "I think coming out of the pandemic though, we've consolidated the number of influencers in government and enterprise that understand why this blockchain is different than the crypto space, of course, BSV isn't crypto at all, it's a utility blockchain, enterprise scaling utility blockchain, so I think we're going to come out of here, and you'll see a tipping point, we're going to get a lot more attention from mainstream media. I'm excited for what's coming ahead, but I don't think the pandemic's really slowed us down."
Notably, some delegates from IBM attended the conference to learn more about BSV, though Ayre conceded it was not yet at critical mass with big business, due to linger confusion about how BSV differs from BTC. In Ayre's words, the speculative side of BTC and token trading was an unfortunate offshoot of the original invention of Bitcoin, which in itself was created to solve data challenges. Ayre predicted more big businesses would join the next conference in New York, in the same way as IBM, to learn more about what BSV blockchain has to offer.
He was joined in the morning interview session by Connor Murray of Britevue. Murray began by saying the debate around scaling Bitcoin is as old as Bitcoin itself. He praised Calvin Ayre specifically for being the reason BSV took the lead on scaling, as was always intended through the founding white paper.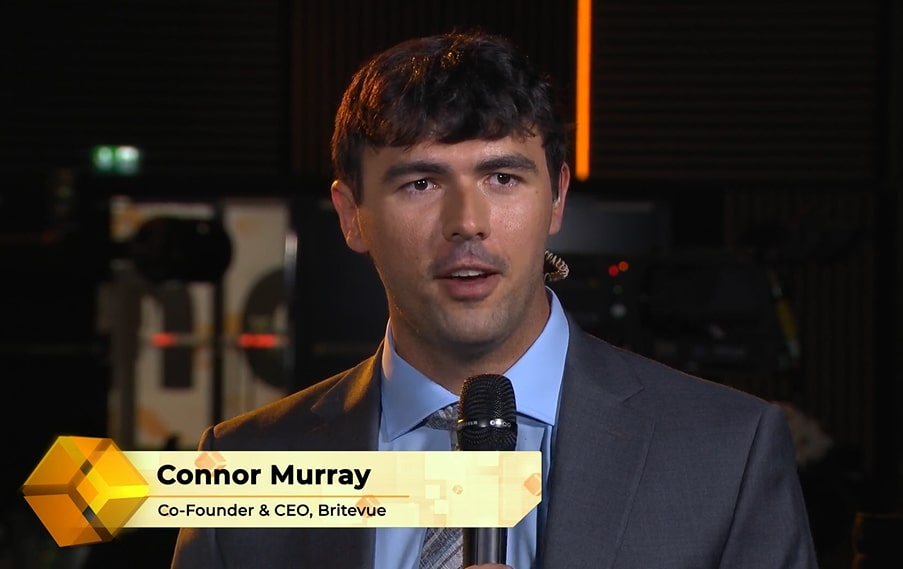 He described the sheer number of companies currently using BSV blockchain for data or for payment use cases as incredible, and said he was amazed at the progress in the BSV community since the early days. Despite the roadblocks placed there by others, he said he is very excited for the future trajectory of the BSV network.
"I think that this space has evolved so rapidly and it's not slowing down. The amount of companies that are leveraging the global blockchain for data use cases, for payment use cases is actually incredible," Murray said. "I actually am amazed at how far we've come since the first BSV conference in London, you know, BSV has not slowed down despite the roadblocks that people tried to put in front of it. I'm excited for where BSV is and where it's going."
Britevue is a consumer facing business, using micropayments to monetize transactions that would otherwise be monetized by ads. Microtransactions, according to Murray, provide an inherent opportunity to monetize content with BSV. Arguably the biggest use case for BSV in his view came through using the ledger as a timestamp ledger. Britevue makes use of this by providing tokenized proof of purchase, which can then be tied to consumer reviews—Murray said this makes verified reviews easy to validate on the blockchain, something that can only be possible on a low fee blockchain like BSV.
Murray is also building a business platform that allows companies to own their location on the blockchain, without having to rely on the likes of Google, Amazon, and Yelp to control and manage their data. With the help of BSV blockchain, companies no longer have to lobby a third party to manage their own data—they can simply manage that data on the blockchain, and also issue rewards and other incentives for reviews and other feedback.
According to Murray, the benefit of the CoinGeek Conferences comes from the networking opportunities, and the chance to meet people in real life. So much of Bitcoin is hidden behind avatars and profile pics online, and having actual conversations and networking opportunities with people in the flesh is good for innovation, cooperation and community cohesion. Murray says all BSV stakeholders share the same ultimate goal—they are all incentivized for BSV to succeed, and there is a lot of cooperation going on at these events.
Watch CoinGeek Zurich Day 1 – morning sessions here:
Watch CoinGeek Zurich Day 1 – afternoon sessions here:
Watch CoinGeek Zurich Day 2 here:
Watch CoinGeek Zurich Day 3 here:
New to Bitcoin? Check out CoinGeek's Bitcoin for Beginners section, the ultimate resource guide to learn more about Bitcoin—as originally envisioned by Satoshi Nakamoto—and blockchain.