It appears India's back-and-forth dance with blockchain might finally be evolving into a serious effort at progress. The recent Blockchain Summit India 2019 (BSI), held between February 22 and 23, produced a few notable achievements for the country and its businesses.
The summit was very well attended, by government officials and business leaders alike. Shri Suresh Prabhu, the Minister of Commerce and Industry, delivered a welcome message along with business leaders from HPCL, Flipkart, Lucknow and the organizers of the summit, the Auxesis Group. The summit as a whole was supported by the Department of Science & Technology of India, as well as the state of Uttar Pradesh.
Prabhu also used the occasion to announce the country had signed an agreement with Government of the United Arab Emirates (UAE) to learn and leverage blockchain technology in the e-governance of India.
The Auxesis Group took the opportunity to announce India's first public blockchain, the Auxledger. It is specifically built to adhere to the regulations of Indian IT and Data laws. It will soon enable interoperability across hundreds of Auxledger private chains, and is already live for over 60 million users of Indian State Governments.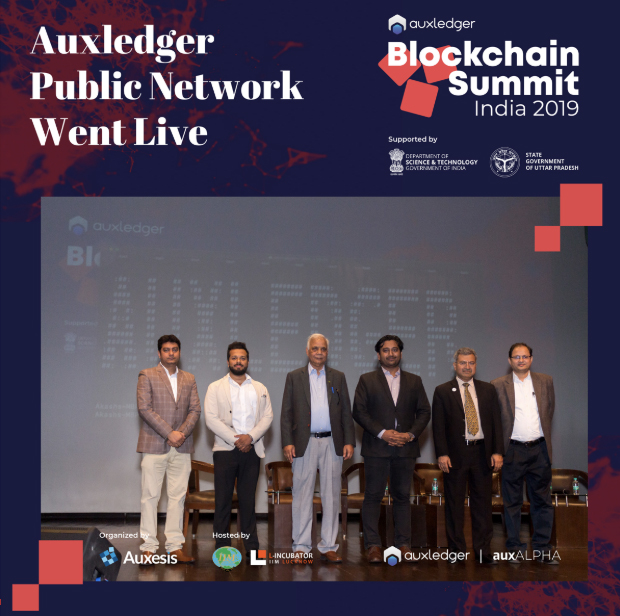 The CEO of Auxesis Group was quoted as saying:
"Indian enterprises have well formulated blockchain use cases over public and private chains. However existing shortcomings in current infrastructure such as network fee volatility, lack of data privacy, customizability, interoperability and fault tolerance makes it difficult for enterprises to adopt it. Auxledger is designed to solve the same."
Attendance was high, with 2,300 blockchain enthusiasts, 80 global blockchain influencers as speakers, 50 VC & crypto funds and 10 premium academic institutes participating.
Making the occasion truly special, Cashaa also launched their new CMC wallet with exchange functionality, leveraging the Auxledger blockchain. It allows users to purchase cryptos from a variety of exchanges, all from within the wallet.
This cooperation between enterprises and the government is really a big step forward for India. If organizing the BSI was all it took to get some major progress for blockchain technology in the subcontinent, then let's have more of them, and soon.
New to Bitcoin? Check out CoinGeek's Bitcoin for Beginners section, the ultimate resource guide to learn more about Bitcoin—as originally envisioned by Satoshi Nakamoto—and blockchain.