A cashless society might seem like something in the distant future, but we're already on our way. Today's digital finance already demands a lot of faith, and its future will require still more. The many benefits are why businesses and communities are rapidly moving in the direction of electronic payments and why people are rethinking their perception of cash. 
BSV leads the way
Blockchain transformative technology has positioned itself as the answer to these demands, which will have a massive economic impact on the way people transactions. Rising in popularity in the blockchain sector is the Bitcoin SV (BSV) protocol. As businesses continue experimenting with going cashless, BSV offers enterprises the best performing blockchain with fast transactions, low fees, and a secure ecosystem. 
As evidenced by the chart below from Coin.Dance, the number of transactions per day on the BSV blockchain has been on the increase as the Bitcoin SV Node team continues working to restore the protocols outlined by Bitcoin creator Satoshi Nakamoto. Over the last 60 days, BSV has closed the gap in transaction volume with BTC, decreasing the disparity in transactions by upwards of 90%. Throughout this period, the number of transactions on Bitcoin SV eclipsed that of BTC on numerous occasions.
The upward trend proves the demand for on-chain transactions exists while BTC's approach remains static.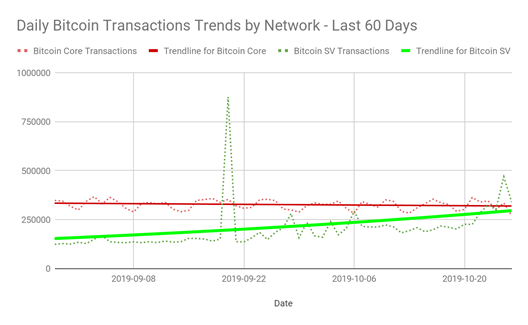 Flourishing 3rd party ecosystem 
The Bitcoin SV node team's focus on increasing the block size to handle high volume transactions contrasts sharply with BTC developer's stated goal to artificially keep blocks small. The developer community responded positively to BSV's approach. A rapidly growing ecosystem of applications deployed using the BSV blockchain is spurring the rise in transactions. This transaction grow trend on Bitcoin SV is just getting started.
Bright future ahead
The rise in Bitcoin SV transactions coincides with recent reports from within China that have boosted the entire blockchain sector. Last week Chinese President Xi Jinping gave a speech to the Politburo, where he argued that China must lead the world in blockchain technology. 
The state will leverage blockchain to revolutionize all of its core industries, and sees it as the path forward to giving China a competitive edge. The result has sparked a resurgence of interest in blockchain technology in the country. Bitcoin SV is uniquely situated to benefit as it is the only blockchain capable of scaling to handle the high volume of transactions observers typically see on platforms such as Alipay. A scalable infrastructure is crucial in achieving President Xi's vision and over time we will see the Chinese developer community aggressively gravitate to BSV as the current transaction trends clear show is starting to happen.
New to Bitcoin? Check out CoinGeek's Bitcoin for Beginners section, the ultimate resource guide to learn more about Bitcoin—as originally envisioned by Satoshi Nakamoto—and blockchain.