After nine years of controversial, international infamy, the Ayr United kit launch is now truly going to the dogs. Scottish-based huskies with a strong TikTok following will now take over the modelling of the kit. This is the 10th year of sponsoring Ayr United, making it one of the longest standing sponsorships in the modern era, globally.
With a new owner at the helm there are reasons to be optimistic about the coming season for Ayr United especially coupled with the continued backing of long-term sponsor, Calvin Ayre, using the Bitcoin SV brand for the 3rd year.
Calvin Ayre is a Venture Capitalist with a specific investment and business focus on fintech innovations, data management, cyber security and transactable digital tokens using the original Bitcoin protocol blockchain, Bitcoin SV (BSV).
This kit launch has prompted shirt maker, Hummel, to look into making replica dog shirts for the teams they sponsor globally. European Marketing Director Mark Hummels commented: "Fans are always wanting to show their true colours and the concept of walking the dog in your teams' colours is something we will explore for sure."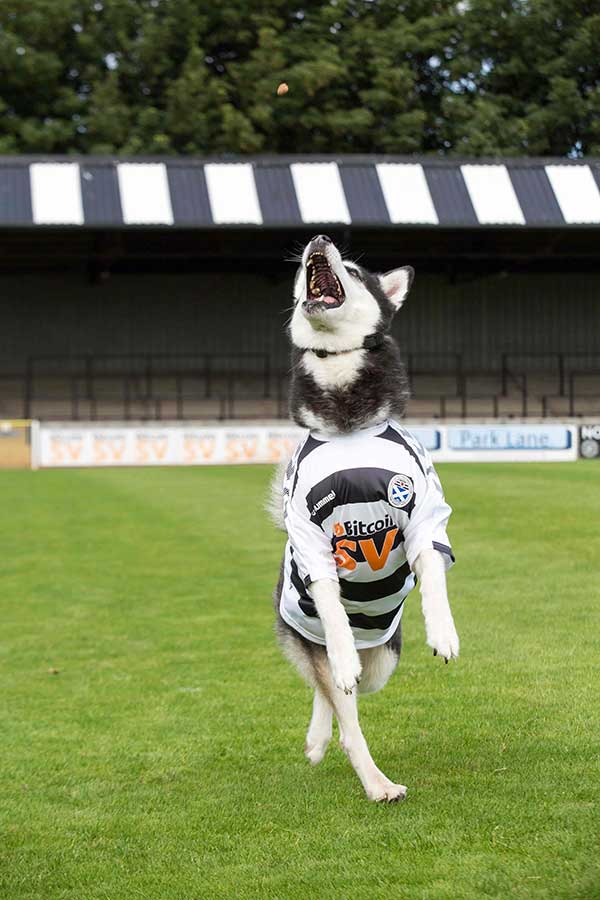 Calvin Ayre wanted to wish The Honest Men good luck too, adding: "I love following Ayr United, it's been a hell of a ride over the last decade with promotions, demotions and some Cup runs. I love the fact that Bitcoin SV, Bitcoin's original protocol is on the shirts of the team where my ancestors came from, it's been a great pleasure and privilege to support Super Ayr United!"
About Bitcoin SV:
Bitcoin SV (BSV) is the world's only, unboundedly scaling public blockchain. This gives BSV a global monopoly on being used to solve enterprise data management and valuation challenges. The BSV enterprise blockchain is also the only platform that scales to enable the exchange model of the future that facilitates users to digitally tokenize anything in the world. This opens up amazing new business models like the 'Internet of Things.'
What's the difference between BSV and BTC? BSV can scale to handle over 50,000 transaction per second (BTC is around 12, yes, 12!), BSV also has very low transaction fees (about $0.003) whereas BTC's fees stand at around $12…nobody is going to buy a $3 coffee with a $12 transaction fee, right?
For more information visit BitcoinAssociation.net, the Swiss-based and regulated Association that manages the rapidly growing, global BSV Enterprise Blockchain Ecosystem.
*whose namesake, Paul Pogba, was Man Of The Match in a pre-season friendly for Manchester United against Ayr at Somerset Park. He later went on to become the most expensive football player on the planet (see attached picture with long term sponsor Calvin Ayre).
New to blockchain? Check out CoinGeek's Blockchain for Beginners section, the ultimate resource guide to learn more about blockchain technology.