Scottish Championship football team Ayr United FC are marking their 10th year kit sponsorship anniversary in style—with a little help from Paul Dogba and Kenny Dog-Leash.
The Ayr-based club is celebrating one of the longest standing sports sponsorships of the modern era with its 10-year anniversary of backing from venture capitalist and CoinGeek founder Calvin Ayre, three seasons of which have now been under the Bitcoin SV brand.
The launch is being marked by a couple of famous Huskies, Paul Dogba and Kenny Dog-Leash, complete with their own doggy football kits emblazoned with Bitcoin SV. The loveable hounds claim a huge social media following, with over 183,000 followers on TikTok alone, showcasing Ayr United and Bitcoin SV to a whole new audience.
With a new owner recently coming on board at Ayr United, the sponsorship marks a reassuring continuity for the club as it moves forward optimistically towards the new season in the Championship, one tier below the elite level of Scottish football.
Kit manufacturer Hummel is now reported to be looking into whether it can manufacture dog kits for more of the teams it works with globally, based on the successes seen with the anniversary kit launch at Ayr United.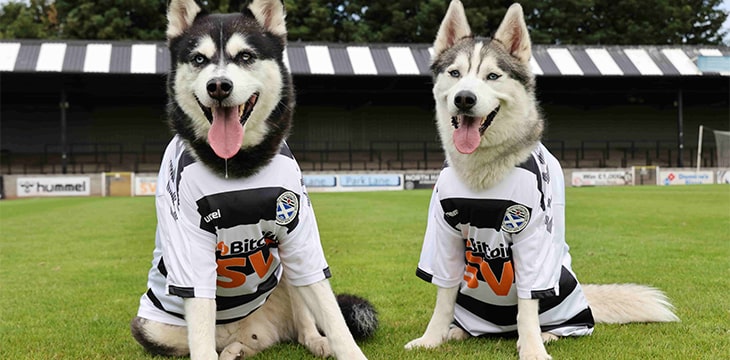 European Marketing Director Mark Hummels said they wanted to explore whether dog kits could become a popular addition to their current replica shirt product offerings for more sports clubs worldwide.
"Fans are always wanting to show their true colours and the concept of walking the dog in your teams' colours is something we will explore for sure."
Calvin Ayre himself said he was excited to see Bitcoin SV on the Ayr United shirt, reflecting the Scottish origins of his ancestors, and tying up the true implementation of Bitcoin with his favorite football club.
"I love following Ayr United. It's been a hell of a ride over the last decade with promotions, demotions and some Cup runs. I love the fact that Bitcoin SV, Bitcoin's original protocol, is on the shirts of the team where my ancestors came from. It's been a great pleasure and privilege to support Super Ayr United!"
The sponsorship deal sees Bitcoin SV remain as the chief sponsor of the Ayr United FC kit, which will carry a Bitcoin SV logo throughout the new season.
Bitcoin SV is the original Bitcoin as per the founding Satoshi Nakamoto whitepaper, the closest existing implementation of the technology as envisaged by its founder, Dr. Craig S. Wright. Much more than a cryptocurrency, BSV is a protocol, the plumbing on which a whole ecosystem of apps and services can be developed to harness the power of blockchain.
A leading proponent of Bitcoin SV, Calvin Ayre has devoted his sponsorship of the club to Bitcoin SV for the past two seasons, as part of his commitment to building the profile of Bitcoin SV worldwide. The move represents the start of a partnership that is set to continue for the foreseeable future as Bitcoin SV continues to raise awareness globally.
Paul Dogba and Kenny Dog-Leash were unavailable for comment.
New to blockchain? Check out CoinGeek's Blockchain for Beginners section, the ultimate resource guide to learn more about blockchain technology.