The U.K. financial watchdog opened investigations into over 300 digital asset firms in 2021 as BTC, boiler rooms and recovery rooms scams surged. In a new report, the regulator also revealed that it stopped 1 in 4 firms from entering the market as it stepped up its oversight over nascent industries, including digital currencies.
In a statement, the Financial Conduct Authority (FCA) revealed that it received 16,400 inquiries about possible scams between April and September 2021, up by over 30% from the same period a year prior. The top scams included digital assets and boiler room scams, it said.
Over a six-month period, the watchdog opened 300 cases relating to possible digital asset businesses not registered with the FCA, many of which it says are outright scams. It currently has 50 live investigations into unauthorized digital currency businesses, some of which are criminal probes.
Digital asset scams were three times more popular than the closest other types of scams, FCA's data shows.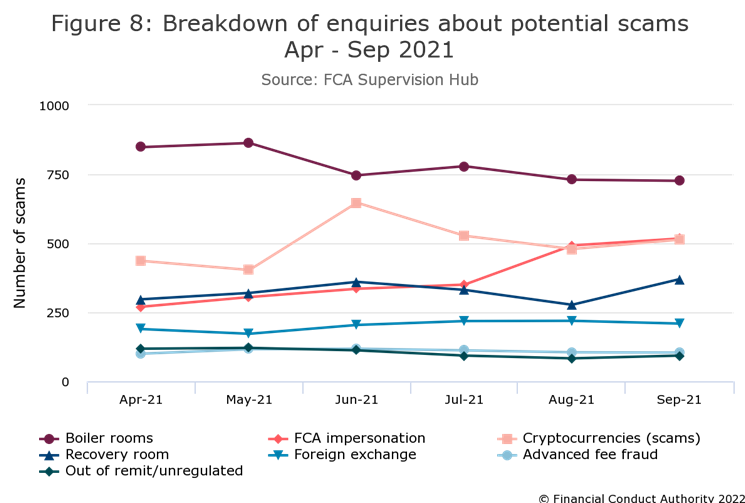 "The data we've published today shows how prevalent scams can be," the FCA's executive director of markets, Sarah Pritchard remarked.
In 2021, the FCA also launched two campaigns to further protect and empower investors. The first, ScamSmart, features an online tool that gives more information on any form of investment and a list of firms operating without being registered. The second, InvestSmart, aims to provide novice investors with more information to make informed investment decisions.
"Consumers need to have confidence when making investment decisions and the data we've published today shows how prevalent scams can be. Before investing, check [if] you know who you are really dealing with, check if they are authorised by the FCA and do your research to understand the risks that might be posed," Pritchard added.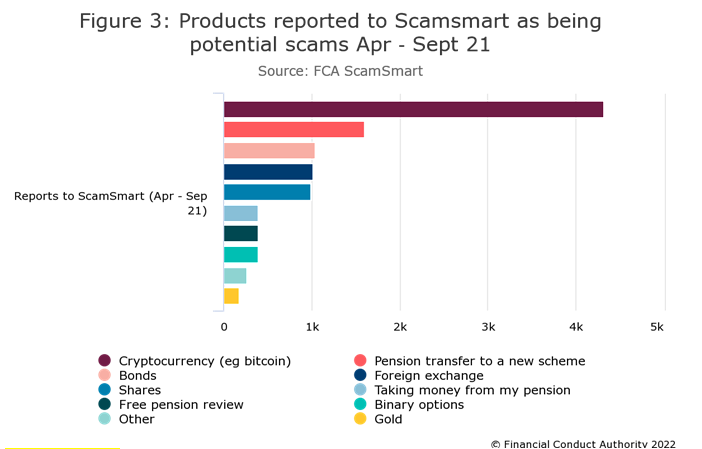 The latest data comes at a time when U.K. lawmakers are taking a keen interest in digital assets. Recently, a new economic draft bill was introduced that seeks to stamp out money laundering from the nascent industry.
The lawmakers have also been putting pressure on the FCA to take more stringent action against digital asset crime.
"Why are we allowing . . . non-compliant crypto asset businesses to trade with impunity, and when can we expect that they will be put out of business?" Lord Browne of Ladyton, a Labour peer and former cabinet minister, posed recently in the House of Lords.
Watch: CoinGeek New York panel, A Better Internet Experience using Blockchain
New to Bitcoin? Check out CoinGeek's Bitcoin for Beginners section, the ultimate resource guide to learn more about Bitcoin—as originally envisioned by Satoshi Nakamoto—and blockchain.