Africa's appetite for digital currencies has been growing at an astronomical rate in the past few years. The continent has now become one of the biggest markets in the world for peer-to-peer digital currency trading. According to the latest data, the region has seen the most rapid growth in the past three months, with four countries seeing triple digit growth in their trading volume.
For years, Africa's digital currency market was insignificant. However, in the past four years, Africa's digital currency industry has been one of the most aggressively growing in the world.
As CoinGeek reported, Africa's weekly P2P trading volume hit $14 million in May, surpassing Latin America's for the first time ever. Data from analytics firm Useful Tulips showed that Africa was now only second to North America in P2P trading volume.
Now, new data indicates that the continent recorded triple-digit growth in trading volume in just three months. According to the data, provided by digital currency analyst Kevin Rooke, Ghana led the continent with a 257% spike in trading volume.
Kenya registered a 199% rise, with South Africa and Nigeria recording 194% and 125% rise in trading volume respectively. Combined, the four countries accounted for over $15 million in weekly trading volume in June.
Despite leading in volume rise, Ghana is still fourth in the continent, with its neighbor Nigeria retaining a significant lead as the biggest digital currency market in Africa. Kenya comes in second with a slight lead over South Africa.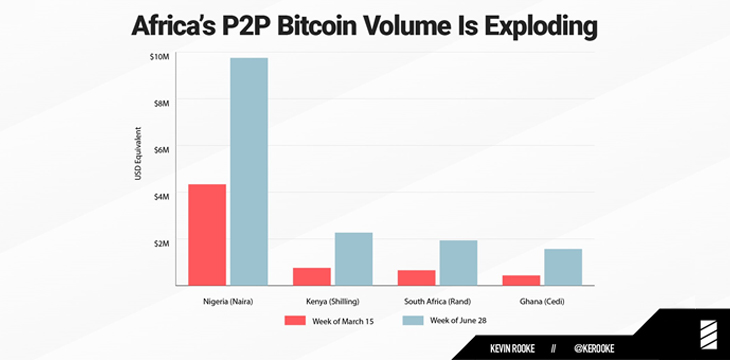 Image courtesy of Kevin Rooke on Twitter.
Unlike all the other regions, Africa's digital currency trading volume has been consistently growing for the past five years. For most other regions, the volume hit an all-time high on the back of the 2017 price spike, only to drop significantly in the year that followed.
For Africa, the volume has been rising steadily, setting new records every other week. Some of the popular trading platforms have confirmed as much, with their new signups and trading volume rising every week.
Ray Youssef, the founder and CEO of Africa's largest P2P trading platform Paxful told CoinGeek, "For Africans, bitcoin helps to eliminate the bottlenecks caused by traditional banking and financial services."
New to Bitcoin? Check out CoinGeek's Bitcoin for Beginners section, the ultimate resource guide to learn more about Bitcoin—as originally envisioned by Satoshi Nakamoto—and blockchain.