Chainalysis has released its 2020 report on the darknet markets. The blockchain analytics firm has discovered that in 2020, the total revenue of the darknet markets significantly increased while the total number of transactions and marketplaces decreased.
In 2020–and remember we still have one month left in the year–there were only 37 active darknet markets, the lowest number of darknet marketplaces seen since November 2017. However, these 37 markets were able to rake in more than $1.5 billion to date.
To put that into perspective, in 2019, 49 active marketplaces collectively had a total revenue that was less than $1.5 billion.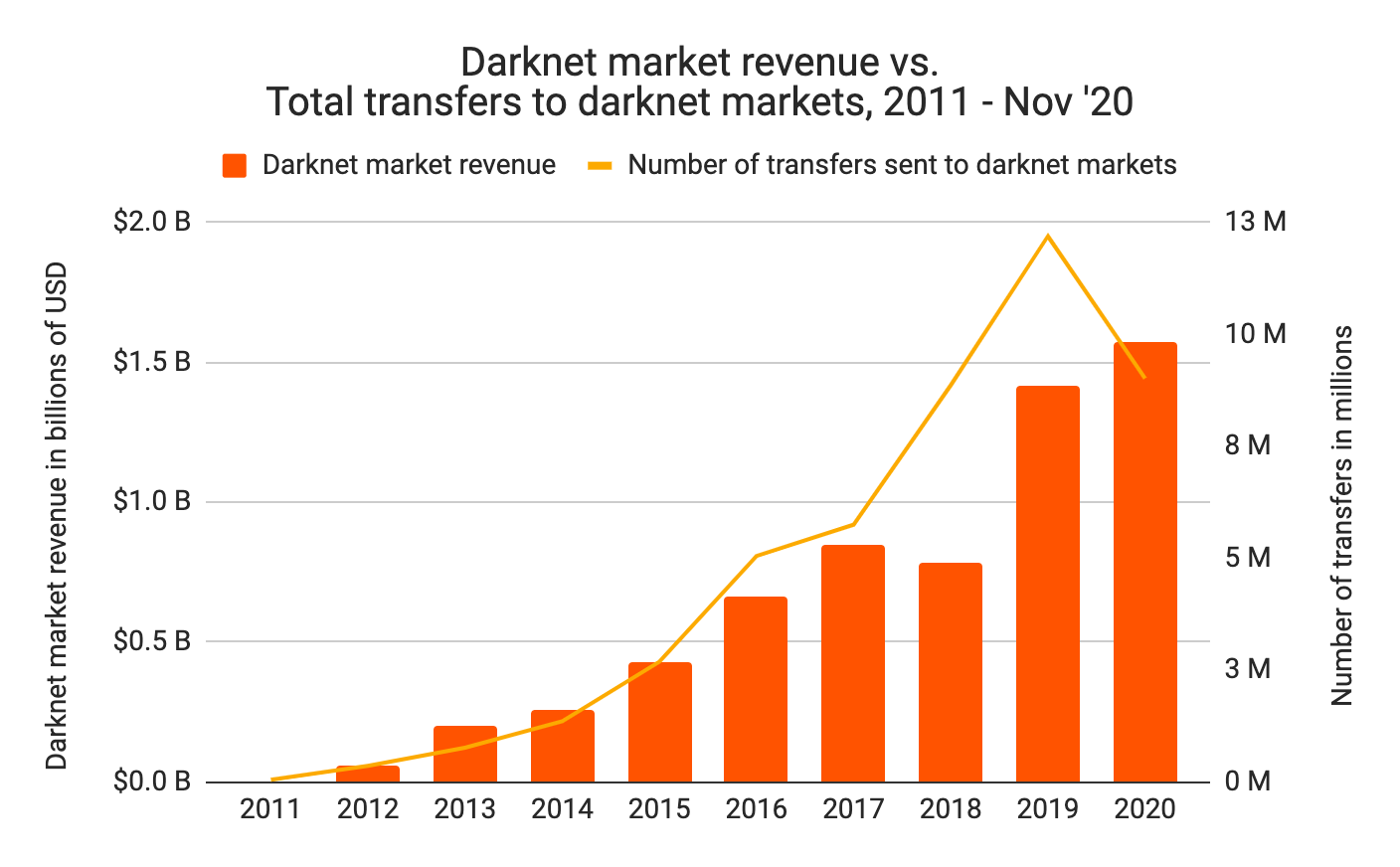 Why the inconsistency?
According to Chainalysis, law enforcement and the global pandemic are the two largest factors–in that order–contributing to the decrease in the amount of darknet marketplaces. Which in effect, has increased the revenue the markets brought in during 2020.
It appears that ever-increasing competition combined with the efforts of law enforcement are causing the darknet market ecosystem to consolidate to a few big players…competition over time naturally whittles the market down to the biggest, most efficient players,
said Chainalysis in their announcement.  It is believed that big players with large operations are the majority of the markets and vendors that are still up and running. That being said, the orders that they fill are likely to be a lot larger and more expensive than smaller marketplaces and vendors.
In addition, the Coronavirus has affected postal systems around the world, meaning deliveries are not arriving on time, or in some cases at all. Although Chainalysis discovered that the coronavirus has had only a small effect on the darknet markets, it is believed that the people buying on darknet markets may be increasing the quantities of their purchases due to the uncertainty created by the pandemic and the unreliability of their postal system. 
Click here to read Chainalysis's full report, "Covid is Causing Shipping Issues, But Natural Competitive Forces Are Causing Darknet Market Consolidation."
New to Bitcoin? Check out CoinGeek's Bitcoin for Beginners section, the ultimate resource guide to learn more about Bitcoin—as originally envisioned by Satoshi Nakamoto—and blockchain.