A former Canadian government employee has been extradited to the United States to face wire fraud charges and conspiracy to commit computer fraud in connection with his role in the notorious ransomware gang NetWalker.
As per a Department of Justice (DoJ) statement, Sebastien Vachon-Desjardins conspired to damage a protected computer to transmit a ransom demand intentionally.
U.S. authorities have been going after Vachon-Desjardins for some time and liaised with their Canadian counterparts to bust him. On January 27, 2022, Canadian authorities arrested him in Gatineau, Quebec, and executed a search warrant in his home, where they found and seized 719 BTC, valued at just over $28 million at the time and CAD 790,000.
"As exemplified by the seizure of cryptocurrency by our Canadian partners, we will use all legally available avenues to pursue seizure and forfeiture of the alleged proceeds of ransomware, whether located domestically or abroad," Assistant Attorney General Kenneth A. Polite Jr. commented.
He added that the U.S. government will keep pursuing and seizing digital asset ransoms, "thereby thwarting the attempts of ransomware actors to evade law enforcement through the use of virtual currency."
NetWalker ransomware was first discovered in August 2019. It works by compromising a network and encrypting all devices connected to it. When executed, it uses an embedded configuration that includes a ransom note, ransom note file names, and other configuration options, Israeli cybersecurity company Cynet notes.
In its press release, the DoJ claimed that NetWalker had targeted several victims globally, from multinational companies, municipalities and hospitals to law enforcement agencies, colleges and school districts.
"Attacks have specifically targeted the healthcare sector during the COVID-19 pandemic, taking advantage of the global crisis to extort victims," DoJ added.
As CoinGeek reported a year ago, U.S. authorities disrupted the ransomware in an operation that brought together law enforcement agencies from half a dozen countries. They relied on blockchain analytics tools from Chainalysis, and Sebastien was one of the key members of the ransomware gang they identified at the time.
As data by Chainalysis showed, NetWalker was one of the ransomware that had received the highest amount of ransom in the past five years.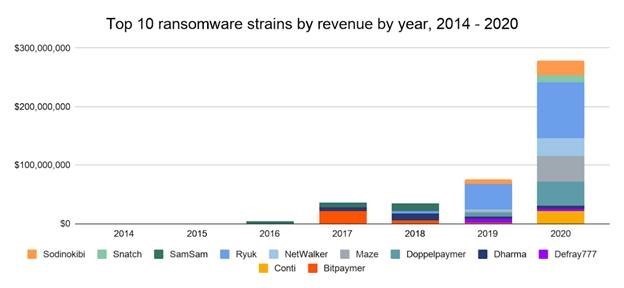 Watch: CoinGeek New York panel, Investigating Criminal Activity on the Blockchain
New to blockchain? Check out CoinGeek's Blockchain for Beginners section, the ultimate resource guide to learn more about blockchain technology.