We've already heard about HandCash Connect previous to CoinGeek London, but this big event was the perfect opportunity for HandCash's leaders to explain what they are trying to give to the world. In their talk, "Building Better Bitcoin Apps with HandCash Connect," CTO Rafael Seibane and CEO Alex Agut took the stage to describe their vision of developing for Bitcoin SV (BSV) in the future.
Seibane began by describing how developers are already using micropayments to discover business models that weren't possible before. But, quite simply, building Bitcoin apps sucks, he said. And this mostly has to do with the two ways of integrating Bitcoin: Buttons and Toolkits.
Buttons are easy but too simple for serious businesses, he noted. Using toolkits, or developing from back end script, can be extremely time consuming and burdensome. To solve this problem, HandCash developed the first Bitcoin App SDK to create the best of both worlds: HandCash Connect.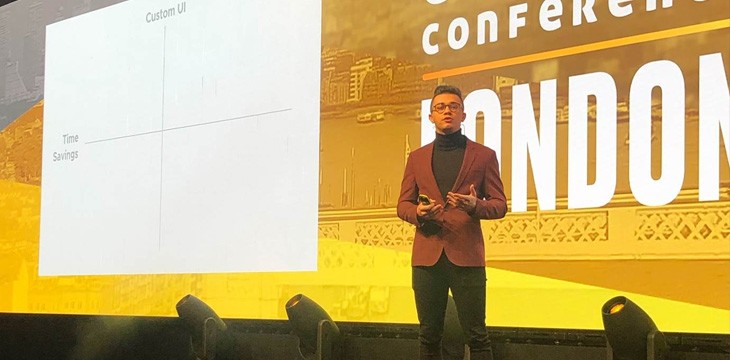 The benefits of HandCash Connect are pretty clear. it provides time savings over script, and better customizability than toolkits. "We want it to be fast, and we want it to be completely unlimited so you can build anything on top of Bitcoin," Seibane said.
The end result is a much easier road to a final product. Seibane highlighted a 90% shorter time to market, made possible by combining instant payments, encryption, identity and login, promised payments, blockchain data and ownership into one neat package. "We see this as playing with Legos," he said, as HandCash Connect provides the building blocks to make something amazing, and quickly.
This combines with HandCash Cloud, an infrastructure that scales to any developers needs. Developers can then really focus in on the app they want to make, and let HandCash handle all the complicated stuff.
"@handcashapp is a solution that allows you to focus on building, no more distracts, just build the best app you can, and we'll take care of the rest"@apagut, CEO at @HandCashapp & @rseibane, CTO at @HandCashapp

Watch #CGLondon live stream here⬇️:https://t.co/r1svwton85 pic.twitter.com/M95GC7AeP9

— CoinGeek (@RealCoinGeek) February 20, 2020
He added that everything has been designed to be non-custodial, allowing developers to be free from worrying about regulation as well. The total combination allows developers and businesses to spend more of their time creating amazing apps, and exploring new business models.
"This is a solution that allows you to focus and build your own thing," he said. "No more Bitcoin jargon, no more jargons, just focus on creating the best app that you can do, guys, and we just take care of the rest. We take care of the Bitcoin part."
The timeline for HandCash Connect's release is pretty quick too. He noted it will be available to everyone in the spring of 2020.
CEO Alex Agut then took the stage, starting by describing the company's core motivation. "Our motive in HandCash has always been making Bitcoin for the rest of us," he said. "And with HandCash Connect, we are doing the same thing that we've made with HandCash wallet making accessible for users, we're trying to make Bitcoin easy and accessible for developers worldwide.
And he noted the great reviews HandCash Connect is already receiving. Brad Jasper, he noted, believes this will save developers 6-12 months on their development time.
Agut then spoke about the HandCash App Gallery. This new service will allow all HandCash wallet users to easily explore new BSV apps. More importantly for businesses, it provides a great showcase to get in front of new users.
Acting as an app store for BSV applications, the App Gallery quickly links wallet to app and allows a user to start using BSV apps in seconds, with full control of their experience.
He also stressed HandCash's strict adherence to security. All users with access to the App Gallery will have to be verified, guaranteeing a high-quality experience throughout.
He also broke down the pricing plan for this service. Developers can publish their app for free up to 10,000 API calls per month, or 1,000 connected users. For 50,000 API calls per month or 5,000 users, they charge a Startup fee of $79 a month. Finally, a Pro level is available, allowing 200,000 API calls or 20,000 users for $299 a month.
Finally, Agut noted that HandCash Connect will be offered at a 50% discount for the first two years its available. For those that want to sign up, they already can at connect.handcash.io.
New to blockchain? Check out CoinGeek's Blockchain for Beginners section, the ultimate resource guide to learn more about blockchain technology.