The first day of the BSV Global Blockchain Convention witnessed several exciting moments, along with a few educational talks. One such talk was delivered by Muhammad Afzar Ahsan, Former Minister of State & Chairman, Board of Investments, Pakistan, who hosted BSV Blockchain Association's Jimmy Nguyen and other blockchain leaders in the country twice this year, including once for the Pakistan Blockchain Summit. Nguyen and others were introduced to all the top technology stakeholders of Pakistan, where they jointly discussed and explored areas of development with the help of blockchain technology. 
Ahsan pointed out that the efficiency of new technology relies more on intellectual abilities than on national resources. He said blockchain provides solutions for many industries—real estate, Internet of Things, supply chain, healthcare, and financial services, among others.
Highlighting some vital numbers to the audience, Ahsan revealed that by 2030, the global blockchain market will be worth US$1432 billion and this sector could increase the global GDP up by US$7.6 trillion. "Almost 96% of financial experts believe that blockchain has achieved the mainstream adoption and is changing the way financial systems used to work. In 2022 [to date], the worldwide spending on blockchain is around US$4.1B, almost 50% more than it was in 2019," he said.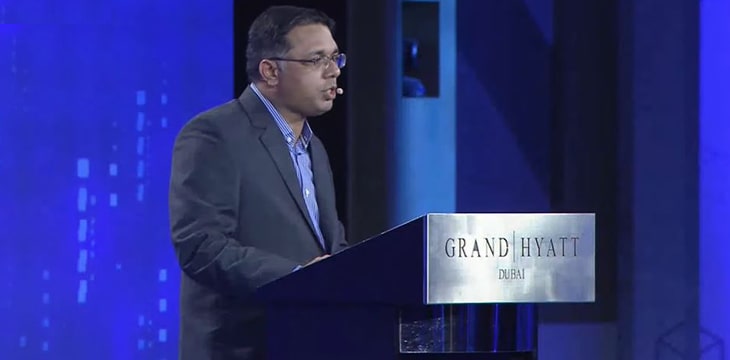 He noted that blockchain technology protects assets, sets organizational boundaries, establishes and verifies technical capabilities, governs interaction with nations, organizations, communication, and individuals, and guides managerial action. Citing the fundamentals of blockchain technology, Ahsan mentioned that blockchain has considerably reduced fraud and risks, and this technology depends on the transparency of all transactions and is a great asset to data sharing, traceability, monitoring, and other services.
Adoption of blockchain
Ahsan stated that many industries are adopting blockchain technology because of its numerous benefits. "There are various technical challenges, such as block size, efficiency, and scalability, hence making it even more important to utilize a cost-effective technology. And Bitcoin SV offers that."
According to Ahsan, real blockchain offers solutions that can resolve long-pending challenges enterprises face regularly. Still, he said, it will take years for blockchain to take over the traditional business processes.
"The process of adoption of blockchain technology will be gradual and steady, not sudden. Blockchain applications are being built on top of digital data, communication, competition, and top-notch infrastructure, which will lower the cost of the expedition and will allow new use cases to emerge rapidly," Ahsan told the audience. 
He emphasized the need for enterprises to impart adequate training in blockchain education to their employees, pointing out that financial companies are already onboarding this technology whereas the manufacturing organizations are not.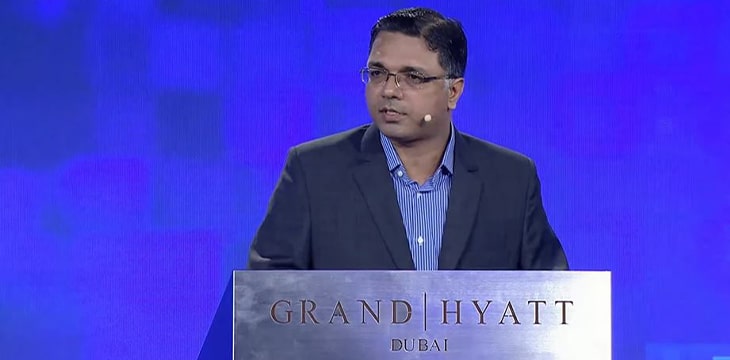 Reiterating that blockchain will impact every business globally, he said the U.S. and China have largely prepared the grounds for massive adoption of this technology. "In the U.S., both private and public sector segments believe in scientific research and innovation, as technology has always been one of the major drivers of America's economic growth. Technology startups make up about 22% of all businesses in the States. Likewise, China has set up new high-tech industrial partners to promote technologies like AI and Robotics.
"China has been the breeding ground for research and development [R&D] be it international technology incubators or venture financing. And today, it has the largest number of scientists and engineers engaged in the R&D in the world."
In summary, Ahsan applauded the growth of his homeland Pakistan in the technology sector, informing everyone about the improved ranking of Pakistan in the Global International Index from 137 in 2013 to 99 in 2021. Giving out a verbal and cordial invitation to all the attendees of the convention to visit Pakistan, Ahsan said these words with pride and humility: "Pakistan is a land of opportunities. I want you all to visit my country to explore Pakistan as your next investment destination."
Watch the BSV Global Blockchain Convention Dubai 2022 Day 1 here:
Watch the BSV Global Blockchain Convention Dubai 2022 Day 2 here:
Watch the BSV Global Blockchain Convention Dubai 2022 Day 3 here:
New to blockchain? Check out CoinGeek's Blockchain for Beginners section, the ultimate resource guide to learn more about blockchain technology.