Cybercriminals stole over $100 million worth of non-fungible tokens (NFTs) over the past year, a new report by blockchain analytics firm Elliptic has revealed./p>
The report found that $100.6 million worth of NFTs were stolen between July 2021 and July 2022. It also unearthed other trends in NFT-related scams, such as the use of digital asset mixers in NFT money laundering, as well as the prominence of social media compromises in NFT thefts.
🚨Over $100 million worth of NFTs were publicly reported as stolen through scams between July 2021 and July 2022, netting perpetrators $300,000 per scam on average.
Head to https://t.co/u6iPLjXgpR to read our NFTs and Financial Crime Report.#nft #crypto #aml

— elliptic (@elliptic) August 24, 2022
In the past year, the value and number of NFTs being stolen have been on a steady rise, with May 2022 being a record year for the first metric at $23.9 million from 3,473 NFTs. In July, stolen NFTs were registered at 4,647, but while the figure is relatively higher, its value was just $3.9 million, owing to the dip in NFT prices as most digital asset prices dropped.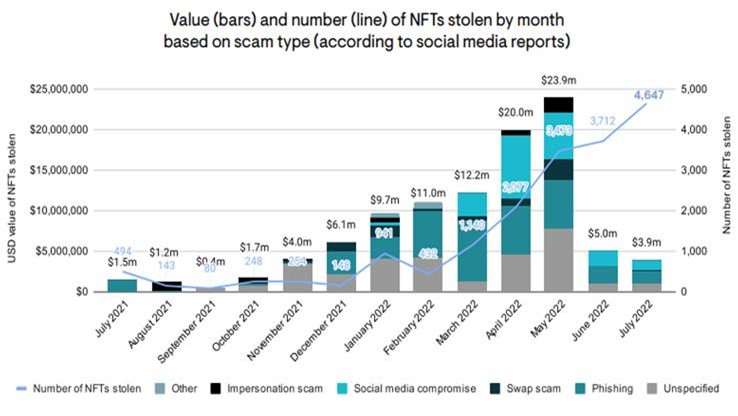 Under specific NFT projects, the Bored Ape Yacht Club has a big lead, accounting for $43.6 million of all the digital collectibles reported stolen in the past year, three times as high as the second-placed collective.
As with any other online scammers, NFT criminals relied on generic phishing to target their victims over 50% of the time. Social media compromise-based phishing, however, has risen over the past year and accounted for a quarter of the victims. Elliptic noted that scammers now have access to tailored malware that can bypass multi-factor authentication, making it easier to target their victims.
Yet another trend that the report unearthed relates to the link between NFTs and other crimes. It found that sanctioned entities purchased over $160,000 worth of NFTs. Further, criminals relied on coin mixers to launder the proceeds of stolen NFT sales to obfuscate their real addresses.
Tornado Cash, an Ethereum-based mixer that has recently been sanctioned, and had its lead developer arrested, was once again at the heart of NFT crime.
Elliptic found that the mixer was the source of $138 million of digital assets processed by NFT platforms "and the laundering tool of choice for 52% of NFT scam proceeds before being sanctioned by the Office of Foreign Assets Control (OFAC) in August 2022. Its prolific use by threat actors engaging with NFTs further emphasizes the need for effective sanctions screening by NFT platforms."
Crime constitutes a very small proportion of NFT activity, the report concluded. However, it has a "disproportionate impact on the industry's reputation and undermines the quality of experience of legitimate users." As such, all stakeholders, including the NFT marketplaces and authorities, must be proactive in their actions to stamp out the scammers.
Watch: The BSV Global Blockchain Convention presentation, Fabriik: Powering Markets for BSV, NFTs & Other Digital Assets
New to Bitcoin? Check out CoinGeek's Bitcoin for Beginners section, the ultimate resource guide to learn more about Bitcoin—as originally envisioned by Satoshi Nakamoto—and blockchain.