DotWallet Pro was officially launched in September 2020. In this short time, a huge number of users have already started using our high quality and secure wallet. Meanwhile, the DotWallet team has been hard at work preparing for today's big update.
In close cooperation with the sCrypt team, DotWallet is releasing a new service: Badges. This is a milestone for Bitcoin SV, because developers can now create any kind of token on the blockchain chain. BSV finally has the powerful capability for asset tokenization in line with BSV's development vision.
The diverse and powerful abilities of Badges are now available to ordinary users, with our brand new feature – Cards.
What is "Cards"
Apart from fiat currencies (i.e., USD, RMB), personal digital assets often include game items, coupons, member cards, and app credits. Before now, it was impossible to manage these diverse assets all in one place. Thanks to sCrypt and Badge services, this is now a problem of the past!
Assets in DotWallet are now divided into 2 categories and displayed in separate locations:
– Assets: Public chain cryptocurrencies (BSV/ETH/BTC)
– Cards: All kinds of membership cards, game items, etc. These are now saved on the blockchain and owned by users.
Various assets are displayed in the form of different cards. Users can add any asset cards by selecting " Create an asset card", "Add from the market", or "Receive".
With "Cards", BSV can now begin to play a more important role in users' daily lives, from using coupons to purchase products, to getting tokens from game and app marketplaces, or to managing VIP cards and more. Users can now save all of these different assets as 'cards' in their wallet.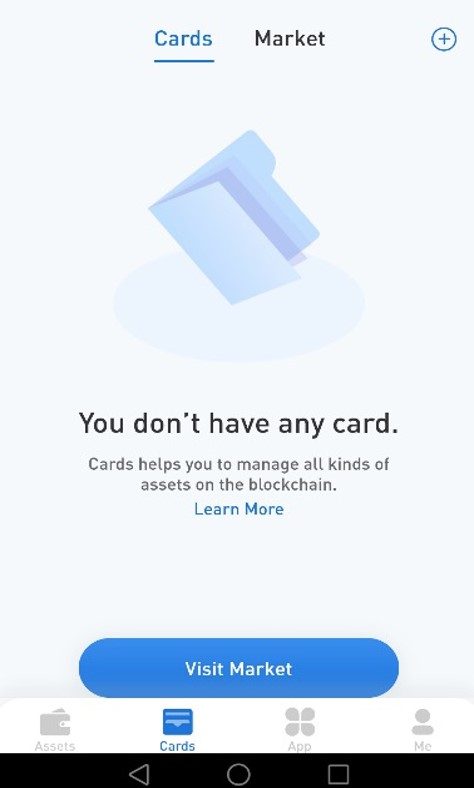 DotWallet added "Cards" in the latest UI update.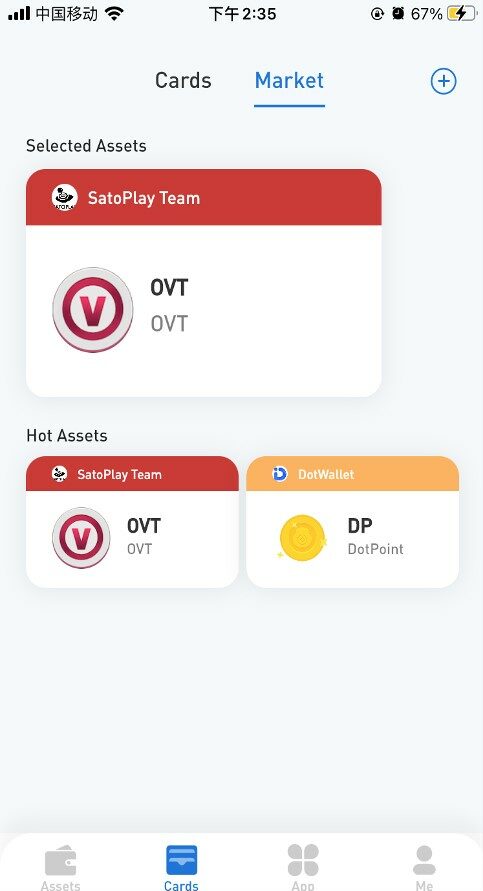 The world of BSV Coupons awaits you.
[1]
Add an asset to Cards
In the Cards Market, users can add any assets card you like.
For example, OVT tokens from SatoPlay, coupons from the shopping mall, VIP membership cards, or any asset displayed in the Card Market,
Select any asset card and click "Add",
The asset will display in your own "Cards" menu.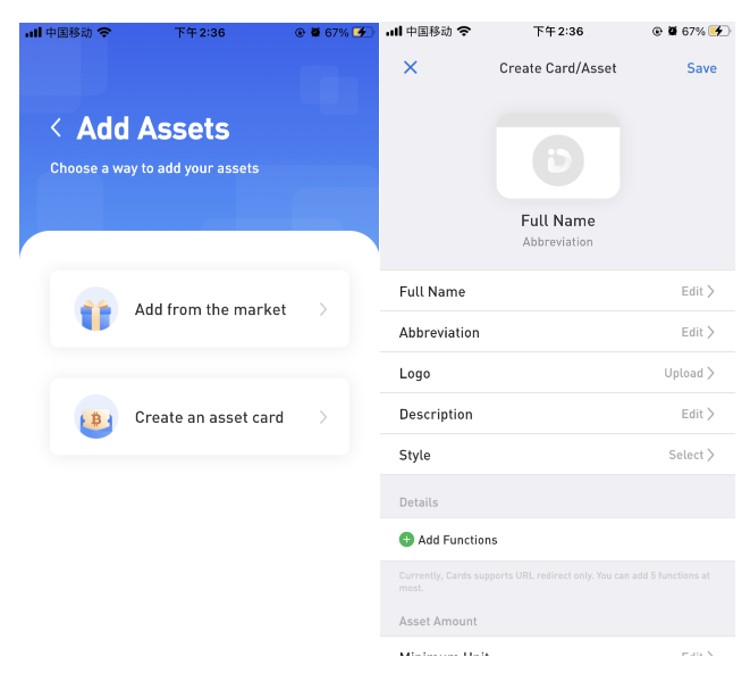 Cards can be sent and received. Users can trade them freely.
Get them in one click, and use them anytime, anywhere.
Note: This feature will be available soon, stay tuned.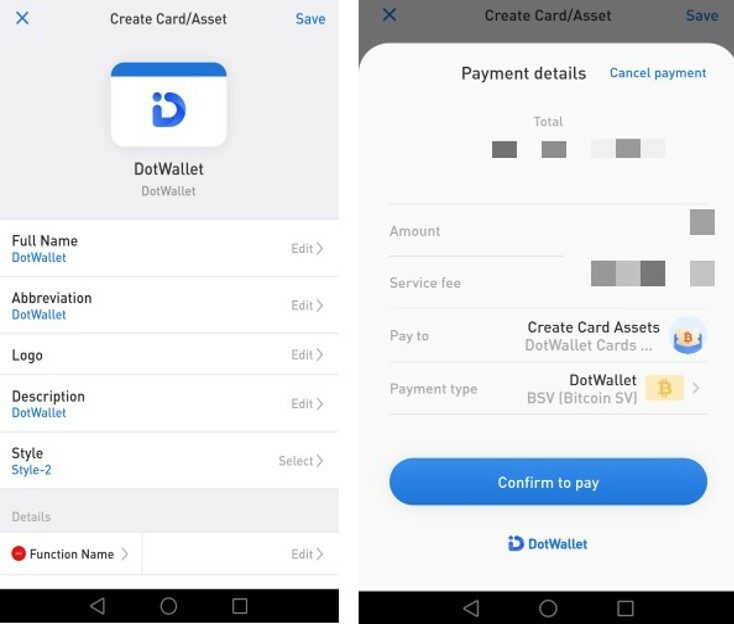 [2]
Create an custom asset
"I want to make a unique Card"
"Cards" in DotWallet will make it work.
Creating Cards is not limited to commercial businesses.
Users can create their own member cards or coupons.
A unique asset card can be created in minutes.
[3]
DotWallet is the world's leading
"Social" digital asset wallet.
Cards is the latest in this exciting trend.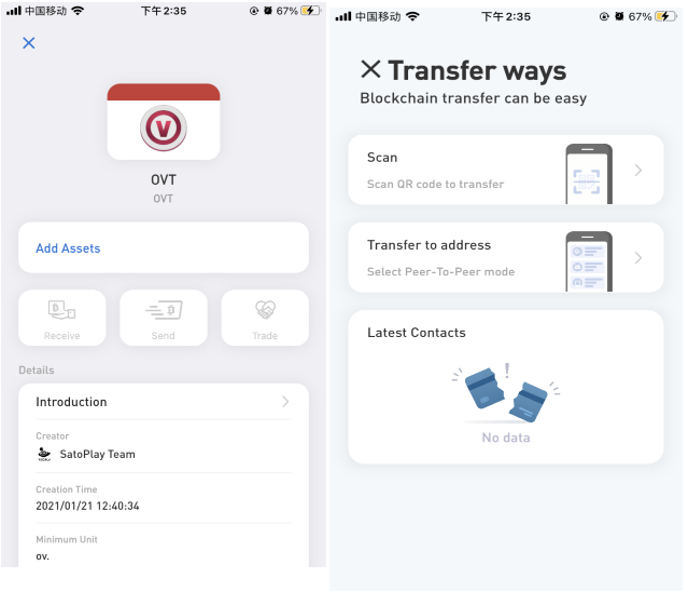 If the card issuer allows it,
Any asset card can be displayed in the public market.
Other users can add them if they are interested.
Apart from trading,
Asset cards support "Peer to peer" transfer.
All transactions and transfer into will be saved on the blockchain.
Therefore, both parties are free from trust issues.
Compared to the traditional transfer,
it's more novel and convenient.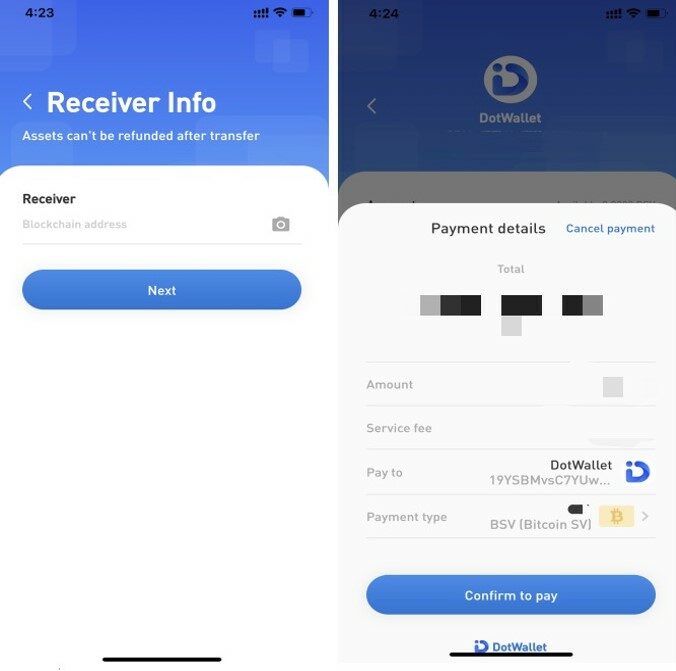 If you want to surprise your friend,
Create a card created and signed by yourself.
And send it to her/him secretly.
Currently, the SatoPlay team has already issued a game asset token
called OVT, powered by Badge service.
You will find corresponding assets in Cards if you are a SatoPlay user.
Please note that OVT in DotWallet web version
will not sync to DotWallet Pro and must be sent with a transaction.
Apart from these new features, Cards Market will add more assets cards and
be updated in the near future.
Why not have a try?
New Service, Amazing Experience
Coming Soon
DotWallet Pro 2.0 was officially online on Jan 16th, 2021
New to Bitcoin? Check out CoinGeek's Bitcoin for Beginners section, the ultimate resource guide to learn more about Bitcoin—as originally envisioned by Satoshi Nakamoto—and blockchain.