Push for the Philippines as investment hub, digital bridgeway to ASEAN strengthened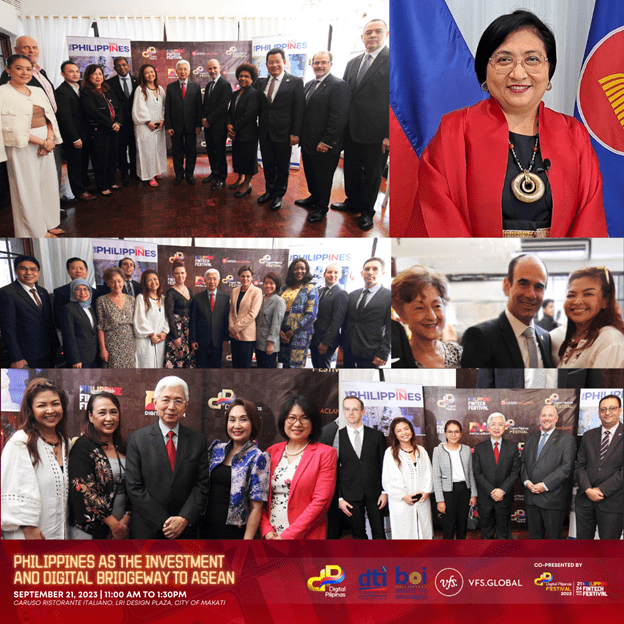 Digital Pilipinas Festival (DPF), a week-long celebration of innovation and technology with industry leaders, government regulators, country partners, startup ecosystem investors, technologists, and founders; all championing 12 critical industries across ASEAN and various regions of the world, was officially launched by Digital Pilipinas recently.
The Department of Trade and Industry – Board of Investments, led by Secretary Alfredo Pascual, attended the launch with representatives from the industry and business leaders, together with twenty-eight (28) embassies and trade, and investment offices. These included the Permanent Representative of the Republic of the Philippines to ASEAN, Ambassador Ambassador Hjayceelyn Mancenido Quintana; Singaporean Ambassador Constance See Sin Yuan; Thai Ambassador Vasin Ruangprateepsaeng; Cambodian Ambassador Phan Peuv; and Malaysian Ambassador Dato' Abdul Malik Melvin Castelino. Envoys from Central Asia, Central East Asia, European Union, North America, and Oceania included Belgian Ambassador Michel Monique Parys, British Ambassador Laure Beaufils, Canadian Ambassador David Hartman, Hungarian Ambassador Titanilla Tóth, Israeli Ambassador Ilan Fluss, Papua New Guinea Ambassador Betty Palaso, Romanian Ambassador Raduta Dana Matache, Spanish Ambassador Miguel Utray, and Trade Representative of the Russian Federation in the Philippines Artem Tsinamdzgvrishvili.
The gathering reinforced the collaborative goal of positioning the Philippines as an investment hub and digital bridgeway to ASEAN and the world. It also offered a sneak peek into the activities that will take place at the five-day Digital Pilipinas Festival, happening from November 20 to 24, 2023, at SMX Aura in BGC.
Organized by Digital Pilipinas, now the largest private sector-led movement for creating an innovation and technology ecosystem, and is the pioneering ecosystem-builder in ASEAN that is actively engaged and synergized in a global digital economy, the Digital Pilipinas Festival (DPF) and Philippine Fintech Festival (PFF) Year 2, themed "World, Meet ASEAN in a Digital Pilipinas," bring together diverse stakeholders from various ecosystems to commit to initiatives that drive the country's tech and innovation ecosystems, provide educational masterclasses on innovation and technology, and give platforms to innovative projects through pitch fest and hackathon.
The DPF and PFF Year 2 serve as holistic hubs for ASEAN innovation and investments, fostering synergy among leading brands, government regulators, country partners, the public and private sectors, technologists, the start-up ecosystem of investors, and founders. The event brings together industry leaders across the 12 key sectors – ESG & Green Finance, Logistics & Supply Chain, Mobility & Transport, Energy, InsurTech, HealthTech, FinTech, Smart Cities & PropTech, AgriTech, EduTech, WealthTech, Blockchain & Digital Assets.
Tracing back Digital Pilipinas's commitment to collaborative initiatives that drive progress and national innovation, Amor Maclang, Convenor of Digital ASEAN, Digital Pilipinas, and the Philippine FinTech Festival, Co-founder of the One ASEAN Fintech Movement and GeiserMaclang, says, "The Philippines has proven to be competitive in the digital economy among its ASEAN counterparts. The Digital Pilipinas Festival (DPF) and Philippine FinTech Festival (PFF) in November are Digital Pilipinas' way of highlighting the country's potential to be an industrial hub and change the tech game in the ASEAN region."
Maclang recognizes the crucial role of DTI-BOI in attracting foreign investments to the country, emphasizing, "We stand united with DTI-BOI in championing the cause to draw in more investments to the country, underscoring the Philippines' pivotal role as the gateway to investment and digital connectivity within the ASEAN region. With its strategic location, robust economy, and commitment to technological innovation, the Philippines provides a central access point for investors and digital pioneers to tap into the diverse opportunities across ASEAN nations."
Top Filipino and international leaders highlighted the Philippines' thriving digital economy, trade and investment, and active multilateralism, which makes it a digital bridgeway to ASEAN and a leading investment destination and digital gateway to the rapidly growing ASEAN region. With 2022 as the country's proof of concept, the Philippine economy grew at 7.6%, the fastest among the major ASEAN economies.
Permanent Representative of the Republic of the Philippines to ASEAN Ambassador Quintana emphasizes that the Philippine Government is "implementing several strategies to create the necessary environment to enable the creative industries, as well as information technology and business process management sectors to participate in the ASEAN and global value chains."
One way to make the country's creative and digital sectors more attractive globally is to provide massive training to millions of young Filipino professionals, according to DTI Secretary Alfredo Pascual.
"To support this platform, we are putting up what we call the National Innovation Hub and there will be a physical hub. We're getting the support of the Asian Development Bank (ADB) with significant funding, and this will house also the Center for Artificial Intelligence (AI) Research that will work on the application of AI in the operations of our small to large businesses," Pascual adds.
Related to Secretary Pascual's emphasis on human resources, British Ambassador to the Philippines Laure Beaufils emphasizes that the ideal digital bridgeway to the ASEAN region prioritizes people. "The Philippines has such a young, English-speaking pool of talent that is really dynamic and tech-savvy, always stretching the boundaries on technology-related issues," Beaufils says.
Meanwhile, Canadian Ambassador David Hartman draws on the similarities between the Philippines and Canada in their adoption of digital assets and artificial intelligence, attributing it to one of the country's strengths. "The Philippine market's affinity for consuming and creating digital assets, as well as its boldness in exploring artificial intelligence, parallels Canada's initiatives as one of the first countries to launch a national AI strategy, investing $125M in research in 2017 and $443.8M in 2021. Canada sees exciting and emerging opportunities in the Philippines' booming tech sectors," Hartman shares.
Hungarian Ambassador Titanilla Tóth, on the other hand, emphasizes the Philippines' important role in Hungary's international trade strategy, acknowledging its cordial relationship with the country for 50 years and viewing the Philippines as a "key trading partner for Hungary among the Association of Southeast Asian Nations (ASEAN)." Tóth also states that "Hungary is willing to take essential measures to strengthen trade relations with the Philippines."
Israeli Ambassador Ilan Fluss, coming from the side of the rising bilateral trade relationship of Israel and the Philippines through technological collaboration, advances that "Israel aims to impart its learnings, from navigating its agriculture, food security, economy, trade, defense, and tourism sectors, and one of the best ways to do this is by strengthening its bilateral ties with the Philippines. Israel is known for its innovative start-ups per capita and a strong culture of entrepreneurship and innovation. The Philippines has great potential in all of these areas."
Malaysian Ambassador to the Philippines, Dato' Abdul Malik Melvin Castelino stresses the country's digitalization efforts, "The Philippines stands at a crossroads in terms of digitalization. Looking at how the Philippines has embarked on a plan to digitalize a lot of the platforms in the government and private sector shows that the Philippines is ready for growth. I think the digital revolution, especially in the trade and investment industries, brings about great benefits and opportunities for countries such as the Philippines and of course, ASEAN."
On the potential of the Philippines for government cooperation in the digital landscape, Trade Representative of the Russian Federation in the Philippines Artem Tsinamdzgvrishvili states, "The modern world offers us many opportunities for cooperation. Russia and the Philippines have great potential for bilateral cooperation in the digital field. By working together, we can achieve better results. We have a lot in common, and together we can achieve great things."
The festival provides a platform for people from different sectors to collaborate on responsible and sustainable government, stakeholder engagement, and the digitization of cities and provinces. It also champions multi-sectoral conversations to create relevant legislation and rally support.
Attendees of the DPF and PFF masterclasses will be awarded Global FinTech Institute (GFI) certifications. GFI is a Singapore-based global credentialing body that certifies FinTech professionals worldwide. These certifications are tied to exclusive C-suite masterclasses on frontier technologies that will be held during the festival.
The DPF and PFF will feature a variety of exclusive global activities to promote collaboration and innovation, such as the Global Investment Forum, ASEAN Digital Economies Summit, and international partnership programs. It will also give a platform to world-class ideas and talent through the Tech Career Expo, while the Asia Digital Leader Awards by Spark Asia and the Voice of Digital Pilipinas – Digital Bayanihan Awards aim to honor the achievements of local and international digital leaders.
In 2022, Digital Pilipinas brought together more than 200 prominent ASEAN leaders from different sectors, including regulators, CEOs, CTOs, CIOs, venture capitalists, investors, tech and digital innovators, pioneering startup founders, entrepreneurs, and senior policymakers. Last year's DPF was supported by Israel, Hungary, Hong Kong S.A.R., Indonesia, Thailand, Malaysia, Singapore, and Cambodia.
The DPF and PFF will be held at SMX Aura in Taguig City, Philippines, and at various co-located innovation hubs across the country. It will be held immediately after the Singapore Fintech Festival and concurrently with Philippine Startup Week. To learn more about how to get involved, please visit https://digitalpilipinas.ph and register for the Digital Pilipinas Festival and Philippine Fintech Festival Year 2.
New to blockchain? Check out CoinGeek's Blockchain for Beginners section, the ultimate resource guide to learn more about blockchain technology.