A shady company going by the name of "Coingeeks" is offering crypto mining colocation services to miners around the world. Don't let the name fool you; the extra S is for 'scam.'
On Twitter, the company described itself as "a managed colocation provider focused on #crypto-mining hardware in our 100,000 sq ft facility," noting that they are "just a bunch of geeks." Its official site, however, has already been closed as of September 1, 2018.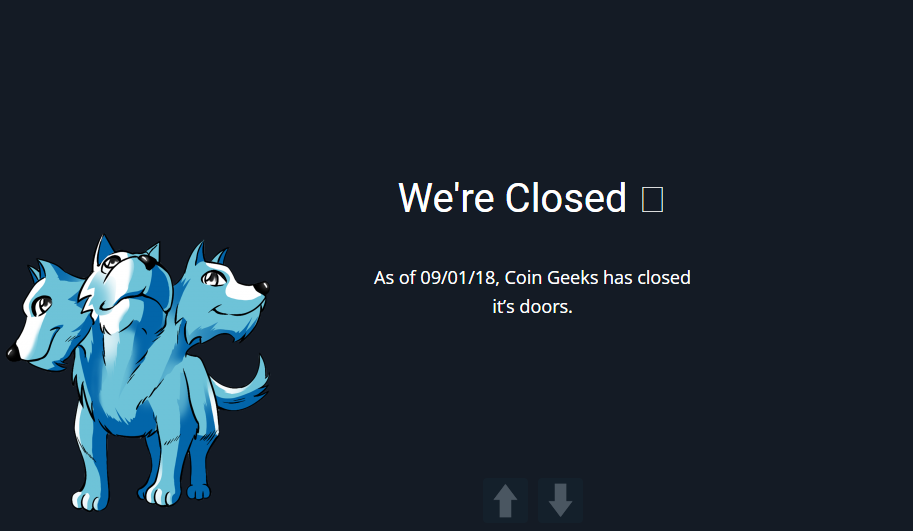 On BitcoinTalk.org, the team behind CoinGeeks claimed to be partnered with WebNX, a dedicated hosting company in the United States. According to CoinGeeks, "We have a 100,000 square foot facility with 3 megawatts of power and the ability to add a lot more. Our facility is based in Utah and is ready to host a tremendous amount of miners. Our network infrastructure has 17 providers in the mix, giving us plenty of redundancy and paths to and from other networks."
Users, however, pointed out two glaring issues with the shady company—aside from the team posing for photos with their faces covered. Customers say they can't verify who they are, and they also can't visit the facility. To which CoinGeeks answered: "We're an LLC filed with the state of Utah, is there something specific you're looking for?" and, "Due to our insurance, we are unable to let anyone who is not part of coingeeks into the facilities."
On the question why they keep covering their faces, the team said, "Not everyone likes being internet famous, some of us want to retain what little privacy can exist in this digital age."
CoinGeeks is in no way affiliated with CoinGeek.com. CoinGeeks went live in December 2017, about four months after Antiguan entrepreneur Calvin Ayre acquired CoinGeek.com on August 21, 2017. CoinGeek is not selling hash or offering colocation services for crypto mining rigs. We tried contacting CoinGeeks via the number listed on their site, but the calls went unanswered.
CoinGeeks' social media handles mimic ours—using realcoingeeks rather than CoinGeeks which is available. We'll be reporting the domain and the social media accounts, but please be warned against shady websites imitating CoinGeek.com.
New to Bitcoin? Check out CoinGeek's Bitcoin for Beginners section, the ultimate resource guide to learn more about Bitcoin—as originally envisioned by Satoshi Nakamoto—and blockchain.