Filipinos' love for online games has helped spur the adoption of digital currencies, and with more than 43 million active gamers, it is no surprise that the Philippines is shaping up to become a key player in blockchain gaming.
When Bitcoin was introduced to the Philippines over a decade ago, industry players first targeted the finance sector for its mass adoption, but it was the gaming community that brought recognition to the country and helped kickstart the wheels that will drive its digital transformation.
Play-to-earn (P2E) games dominated the gaming community at the height of a global health crisis, having helped Filipinos get through the dark period as not only a form of entertainment during a nationwide lockdown but also a means of financial support to struggling locals whose livelihoods have been crippled by the COVID-19 pandemic.
During the early years of Web2 gaming, developers heavily rely on improving the user interface (UI) and game difficulty to retain customers and keep them on edge. However, with the changing times, gamers nowadays clamor for more immersive gameplay with the bonus of earning high rewards from simply playing or interacting with fellow users online—a feat made possible through blockchain technology.
Developers behind P2E games, such as Axie Infinity, Cryptoblades, and Pegaxy, were the first ones to acknowledge the capabilities of emerging technologies and took the initiative to address gamers' growing demands, with makers of AAA games following suit. But with gaming giants throwing their hats in P2Es, non-fungible tokens (NFTs), and the metaverse, many expect that the move will massively transform the global gaming community, posing questions about the possible changes that might take place.
Growing interest in GameFi
The second day of the AIBC Asia Summit held at the SMX Convention Center provided attendees a glimpse of what the Philippine gaming community would be like as the country gradually embraces and utilizes emerging technologies.
Director of Marketing at AAG Ventures Mikhail Penalosa moderated a panel comprising of prodigies in the gaming and finance sector, namely OWNLY Founder and CEO Ismael Jerusalem, Lydian Labs LLC CEO Adrian Sim, and BreederDAO Co-Founder and CEO Renz Chong, as they talked about the fusion between gaming and finance, or GameFi, and what the future entails for the Filipino gaming community.
Firing up the discussion, Penalosa stressed the unmatched energy of Filipinos when it comes to gaming but noted that some couldn't wrap their heads around the idea of being into gaming and that many are opting to ditch their 9-5 jobs and make it as a permanent, if not alternative, source of income.
Sim said getting a sense of belonging pushes individuals into the gaming community while earning from the game was just a bonus for most people.
"Make sure it's fun," noted Sim, pointing out that a game's priority is to provide good entertainment for users.
For Jerusalem, gaming isn't just entertainment but a form of escape from reality that allows people to become who they want to be. As for injecting finance into games, he noted that this is purely about money, which entices more people to jump on board.
"Well, money can't buy you happiness, but it can buy you out to common causes of unhappiness," added Jerusalem, responding to Penalosa's question about why people are getting into finance through gaming.
Chong seconded Sim and Jerusalem's statements, adding that games are a way for users to get to know themselves more.
Fusion or fission?
While merging gaming and finance may come in handy for some, does the combination actually go well, or would it be better to have the gaming industry be left out of the chaotic world of finance? Penalosa asked.
Sim believes the fusion goes well together as it gives value to the time that players exhaust when playing games. He added that in-game assets served as a utility to gamers.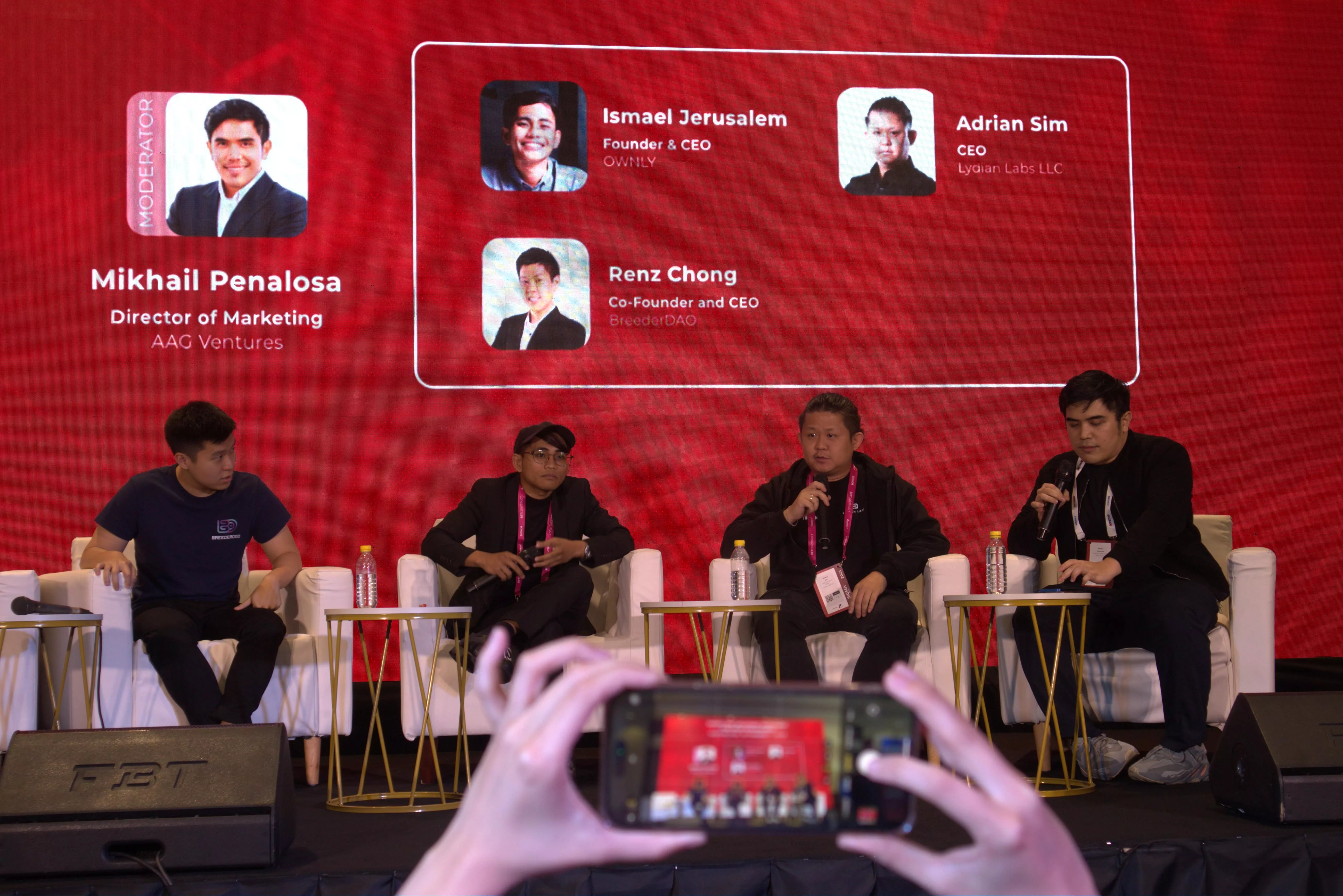 Building on this remark, Jerusalem said GameFi strengthens what industry players call a "Game Economy."
"Technically, what blockchain offers to the game economy and in-game currency, it allows users/players in the game itself to cash out those in-game tokens/in-game currencies to real life so it can be used to real-life scenarios," stated Jerusalem.
He pointed out that without blockchain technology, GameFi wouldn't be possible at all.
Meanwhile, Chong said the only reason he sees why gaming and finance won't work hand-in-hand is when the former becomes nothing but ROI (return of investment), taking away the primary goal of why games are there in the first place—for fun.
Ready Player One
Panelists believe that with the advancement of technologies, gamers worldwide are in it for a wild ride as the gaming industry gradually transforms into something beyond imaginable.
Sim, Jerusalem, and Chong believe that the application of the metaverse in the sector would be the key that would help open the door of endless possibilities in the world of gaming.
Currently, the metaverse isn't the kind of virtual world that many people picture them to be, like that in the movie Ready Player One, Sim said. However, he noted that this isn't far from happening, stressing that companies like Apple (NASDAQ: AAPL) have built and continue to develop tools that support the public vision of the metaverse.
Jerusalem, meanwhile, had a different take. While agreeing that the metaverse is a crucial element of innovation in the gaming industry, it won't be like the virtual world that many believe it is to be.
"It [metaverse] isn't a place; it isn't a timeline…metaverse is a concept of our physical life and the digital life being immersed together," he said. "This may be a philosophical answer, but it's just us using our phone; it's technically the concept of the metaverse."
"So, that's technically part of the concept of the metaverse. It's not a place that you have to log in and become another person and digitalized yourself," Jerusalem insisted.
Watch: Using blockchain tech for data integrity
New to blockchain? Check out CoinGeek's Blockchain for Beginners section, the ultimate resource guide to learn more about blockchain technology.