The imagined early life of Bitcoin inventor Satoshi Nakamoto is the subject of a movie being made by a screenwriter and BSV entrepreneur. Ted Rivera (above) is making his Lord Timmy and the Mystery of the Last Master (strapline: Who was Satoshi Nakamoto?) as one of the first productions on his Mymovies.us – a "decentralized development, finance, production and distribution movie studio ecosystem" or in short, "a fan-owned movie studio".
Mymovies invites people to fund, secure their rights as creators and distribute their films on the blockchain. Speaking from his home in Silicon Valley, Ted said the idea is to improve on the suggested movies which Netflix presents to its viewers by creating a strip of titles that you'd like to watch if they were made.
The movie business today is "highly predatory, highly inbred, a tight-knit community of financiers who do not care about art or movies", Ted says. Using smart contracts on the blockchain, small contributors can secure rights in a movie as a long-term investment, cutting out an industry of middle-men. With Mymovies, fans can purchase a share in the copyright of his scripts, even before they've been filmed.
A former international economist based in Washington, Ted has come to movie-making later in life. Working in the Clinton administration, he encouraged the former Soviet Union to embrace capitalism by promoting agricultural markets: "we paid the guys who moved the fur coats and the caviar and the whiskey before, to move the chickens and eggs and the milk and cheese". Ted says it didn't matter that he didn't speak Russian because "I speak U.S. dollar." He says that many Russians "owe the American people for the way they live now."
When he left Washington, Ted spent a while in the real estate business to build up an income which allowed him to "live like a retired 65-year old at 50". And that gave him time to write scripts and get into the movie business. Starting as a parking lot security guard, he rose to being a "producer in three movies for Roger Corman – the legend of low budget". The combination of the real estate business, having children and writing means that Ted now has ten movies ready to be made.
But movies aren't Ted's only passion. Three years ago he met a friend who told him that "this blockchain thing is going to change the world". He started to investigate and taught himself enough to enter the last CoinGeek Hackathon. He made it as far as the final 15 "with no code".
There's one film already available on Mymovies.us. My White Husband is a French-language drama made by a director friend of Ted's, and was filmed for a ultra-low budget in Cameroon. You can pay 8 pence (U.K.) through MoneyButton to view it. The director keeps 90 per cent of the income, and Mymovies gets 10 per cent. It may not make much for the director, but Ted says it's a better option than signing with a distributor, where "she'd never see a dime". Or she could use YouTube, where, again, unless it got a massive number of views, there would be no income.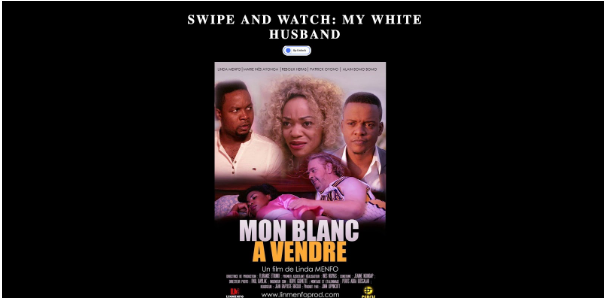 As for his Satoshi film, Lord Timmy, Ted says he's almost finished 30 shooting days on it – again, with Corman-style low budget techniques. Now he's going into post-production, and hopes to have the film launched in September, "for the Area 51 raid". And "I should make my money back, and then some".
On the link between his script, Satoshi Nakamoto and Craig Wright, Ted says it's "the closest thing to the truth you'll ever find in the story of Dr Wright and Bitcoin – and it's science fiction because it has to be entertaining." The eponymous Lord Timmy, aka Timmy Faustus, a reference to Craig Wright's former Twitter handle @ProfFaustus, has a series of adventures with aliens and timewarps ("it's Hollywood!") and eventually creates the code for Bitcoin. Why add aliens to explain Craig inventing Bitcoin as Satoshi, I asked: "because nobody's going to believe it was as simple as what he did," Ted says.
Craig is Australian, but Lord Timmy is played by an American. From the name, I'd imagined the character as an English aristocrat, by Ted explained that "Lord" is used as in Lord Krishna or Lord Jesus, after whom, in Ted's script, came Lord Timmy: "he's the Last Master: there's no need for any religions or any of that stuff after the emancipation and liberation and the restoration of dignity to humanity". Ted is "a doctor of ancient esoteric religious studies", but says he didn't want to make some "sappy worship" movie. Instead the story is filtered through a Roger Corman sensibility – which is more likely to make its money back at the Bitcoin box office.
Ted's ambition is to use Bitcoin to revolutionise the entertainment industry: "we're trying to liberate an industry from people with bad hearts". But that's only the start: "as soon as you take down one industry, it's a house of cards. All the hard problems can now be solved with this technology."
Bitcoin and blockchain are not held in high regard by Ted's Silicon Valley neighbours, who are CEOs, executives and tech engineers: "they're arrogant and they think I'm a fool. I'm walking my dog and I hear 'how's that blockchain? How's that crypto?'." Ted shrugs off the comments with a laugh: "I'm not an egomaniac. I'm a mad man but I'm not an egomaniac."
After the launch of Lord Timmy in September, Ted plans to go to the American Film Market in November with a Mymovies app, ready to sell his movie to the world. Lord Timmy is "Red Dwarf meets Bitcoin." Who could resist?
New to Bitcoin? Check out CoinGeek's Bitcoin for Beginners section, the ultimate resource guide to learn more about Bitcoin—as originally envisioned by Satoshi Nakamoto—and blockchain.