When was the absolute bottom for morale in BSV?
I won. Welcome to law.

— hodlonaut 13%er 🌮⚡🔑 🐝 (@hodlonaut) October 20, 2022
It was only about six weeks ago that the world was hit with the news that a former Norwegian school teacher who hates the use of his given name had every right to mentally abuse people with neurological disabilities as long as their victims are generally disliked by lots of anonymous accounts on social media.
This was a new low in the history of human culture, and it closely preceded the collapse of FTX, deepening the bear market and bringing the BSV price down to a new low of about 35 tethers per BSV. The U.S. dollar price remains unknown.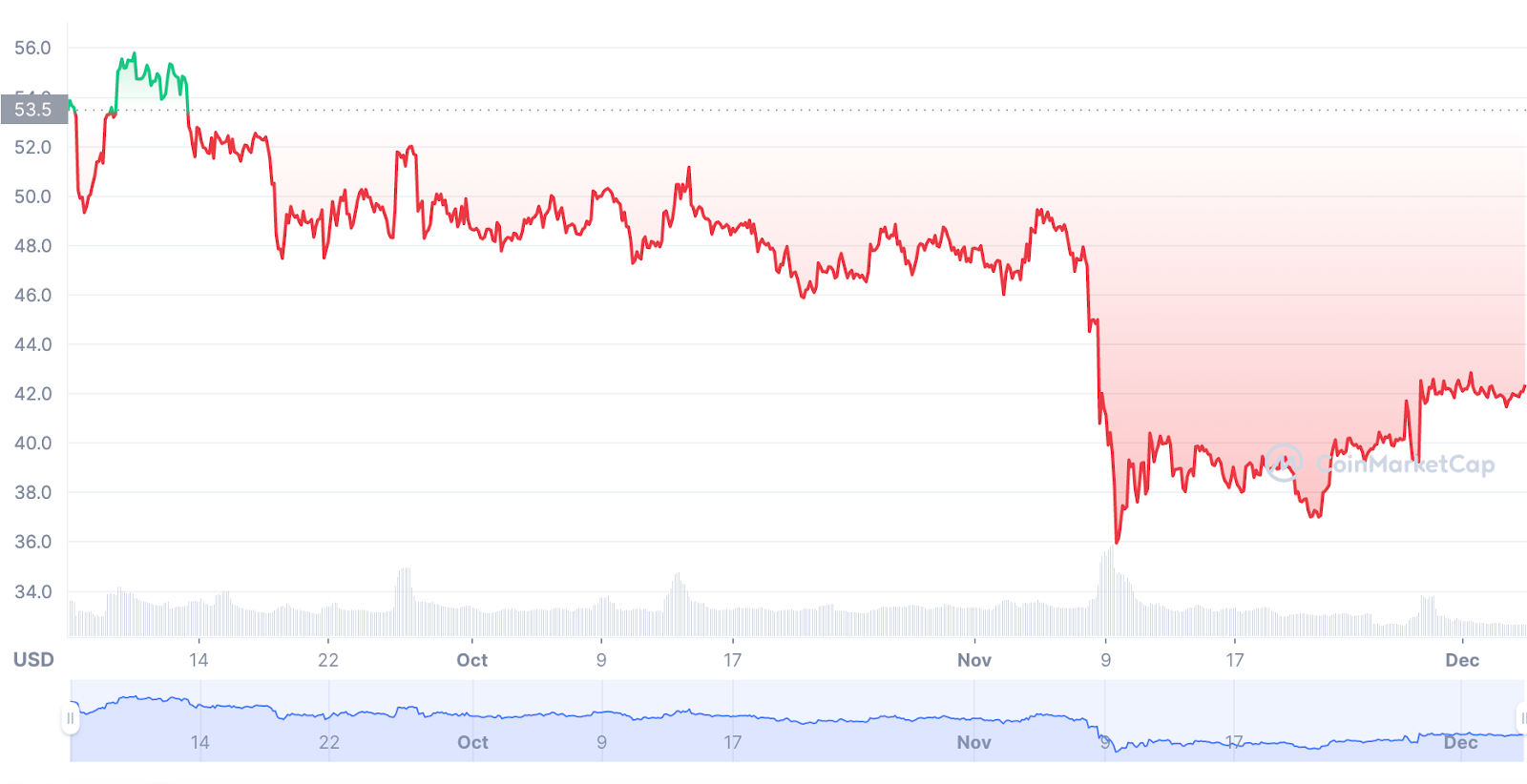 Amid the malaise of the news that a malignant space cat had successfully sued Dr. Craig Wright, an empty block miner was showing BSV nodes that we need better mempool management and security policies to stop degradation of various services under pressure. Additionally, there was a confusing announcement about TAAL (CSE: TAAL | FWB:9SQ1 | OTC: TAALF) going private, and the Bitcoin Association released the digital asset recovery tool to an exhausted base of supporters. Somewhere in here, BSV morale hit an all-time low.
But, as some of the more humorous personalities might say on social media, "bottom is in" may have happened too.
In good news, Bitfinex announced they would be closing BSV margin trading markets against the presumably unbacked stablecoin Tether while maintaining spot trading pairs—creating a pump in the tether price of BSV.
📢Margin trading for Bitcoin SV (BSV) is now only available in reduce-only mode.
Don't worry – deposits, withdrawals & spot trading are still available ✅
For details, please see our announcement:
👉https://t.co/VmeIFB1cZz pic.twitter.com/ZbkKJr8kpk

— Bitfinex (@bitfinex) November 28, 2022
NFT drops, while collapsed in many other markets, remain in an upward trajectory on BSV platforms like RareCandy and newly launched TakeItNFT. Twetch announced the opening of their 100,000th user, launch of their iOS app, revamped "Twetchdat" tool, and a slew of UI/UX improvements. The FTX collapse has also exposed a number of the scams in the Tether, Alameda and Solana camps confirming some of the stronger opposition narratives reported out of this publication over the last couple of years of frothy bullishness—showing that much of the previous bull market was merely the product of predatory market making and simple fraud.
We are delighted to announce the appointment of Christen Ager-Hanssen as our new Group CEO!@agerhanssen #blockchain pic.twitter.com/mk8f3iAUgJ

— nChain (@nChainGlobal) December 1, 2022
Finally, there has been a flurry of exciting announcements. Most notably, Christen Ager-Hanssen was announced as the new CEO of nChain Group.
Ager-Hanssen is a legendary Scandinavian businessman with a laundry list of aggressive success stories across the globe and the kind of blood-and-guts attitude that the BSV economy has been needing. His mandate appears to be heavily focused on refocusing nChain into a product and services oriented firm that will profitability commercialize their extensive (but mostly unwieldy) patent portfolio. Secondarily, he seems genuinely interested in uniting the various factions that have formed around the differences of opinion that have formed in the BSV economy over the years with a focus on #DNAofBSV and personal outreach to the community.
This excitement has led to an uptick in use of on-chain applications, market-leading price performance and a complete turn-around in the trend of sentiment. There has even been an uptick in leads, sales and capital investment interest in the various startups in the BSV economy who have active businesses.
The DNA of BSV, I thank you all for joining our new twitter space. Amazing ❤️I hope you enjoyed it and if you like it the next one is Sunday 11 dec, 9PM BST. Listen here for Episode 1: https://t.co/AkHgKGyiqg

— Christen Ager-Hanssen (@agerhanssen) November 27, 2022
This is bullish! For about two years, I have been predicting that BSV would take back market dominance during the bear market: a trend that has now been confirmed since May of this year as BTC has given back its gains all the way back to late 2017.
I have also been firm in my conviction that in this economic cycle, people would be forced to retreat to utility if the global economy enters an economic recession. We are beginning to see the cracks form in the global economy as the "crypto" economy burns, and yet BSV users, investors, entrepreneurs and fans seem more energized than we have been for some time. While the world burns, BSV is building. With layoffs happening around the blockchain economy, BSV businesses are hiring. As capital flees the cryptoverse, BSV is attracting fresh investors!
Is this the end of the bear market for BSV? Probably not just yet, but I think BSV will continue to take market share away from dying projects as real businesses finally make the decision to use the only blockchain that scales! And when we win, it will be because we stayed the course, continued to fight for truth, and focused on long term victories. 
Watch: Digital Asset Recovery on Bitcoin Explained
New to Bitcoin? Check out CoinGeek's Bitcoin for Beginners section, the ultimate resource guide to learn more about Bitcoin—as originally envisioned by Satoshi Nakamoto—and blockchain.