Events 31 July 2018
Becky Liggero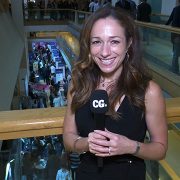 London Bitcoin Cash Speaker Series July 25th recap
As a follow up to their Bitcoin Cash Meetup and Bitcoin Cash Conference earlier this year, Cryptartica launched the "Bitcoin Cash Speaker Series" and held the first event in London on July 25th at the University College London Institute of Education. Similar to their past gatherings, the purpose of the BCH Speaker Series is to cover the latest in BCH ecosystem development, bring together the local BCH community and educate interested parties.
The evening kicked off with a short meet 'n greet, followed by an interview-style session with nChain's Jimmy Nguyen and Dr. Craig Wright, a networking break and a series of short BCH-focused presentations. Main themes repeated throughout the night included the need for more education, methods to encourage merchant and mass adoption, the importance of miners in the big picture and relationship building strategies, both internal and external of the BCH community.
nChain's session was a big hit, with Nguyen interviewing Dr. Wright on a handful of tweets Dr. Wright sent out over the last month (@ProfFaustus, for those of you who are not following him yet), asking him to explain the deeper meaning and messaging behind them. It was such a treat to hear Dr. Wright talk on more personal topics and lifetime goals, with Nguyen expertly bringing out Dr. Wright's sense of humor and personality in a way we have not really seen before.
One of Dr. Wright's tweets singled out by Nguyen highlighted the need for simplicity in BCH tools such as wallets because without simplicity, we will never achieve mass adoption.
"If you look at Google, Google started with a very, very simple page. Google was always very, very simple. Its just a simple little search box, click here, away you go. And that's why people used it.  They didn't need to know anything special", Dr. Wright shared with CoinGeek.com in an exclusive interview.
"And when you use cash, you don't need to use anything special. You just hand over a bill. And when you tap with a credit card, you don't need anything special. If you have to run up a node, log into the lightening network, sync and then wait and dot, dot, dot…, then I'm sorry, but most people aren't ever going to use it", he added.
Another of Dr. Wright's tweets touched on the need for an "all in one coin" (BCH) and how the rest of the coins out there are unnecessary and a distraction.
"Imagine trying to trade over the internet when everywhere you wanted to go you have to start changing. Its just adds friction. If we have one money that everyone can use, it means it doesn't matter where you are anymore, you can be in Uganda, Uraguay or Argentina, Canada, Britain, Lithuania…no one cares anymore, that's the whole point", Dr. Wright said.
The importance of growing merchant acceptance of BCH has been an underlying theme at all Cryptartica events and speaker Michael Hudson of BitStocks emphasized this point during his presentation and in his interview with CoinGeek.com.
"Merchants play a huge role. Especially from a miner's perspective as well. The miners are making a huge amount of financial investment which, over years, they need to get their return on investment", he told CoinGeek.com.
"In order for miners to feel truly secure and not flip flop with their hash rate and their hash power, we need activity, we need genuine merchants. If there are businesses built on top of this technology, miners have the security to keep and continuing funding this initiative of this project", Hudson said.
"So its directly correlated with the security model of Bitcoin, therefore its directly correlated with the value of Bitcoin. Merchants play an incredibly important role. If we can't transact and engage with this, its just speculative. That's what I mean by its time for Bitcoin to grow up. We need merchants", he added.
Kenneth Haugaard and Petter Ikekhua of Ayre Media delivered a presentation on the bComm Association, of which Ayre Media's CoinGeek.com is a founding member, emphasizing the importance of communication amongst all members of the BCH community.
"We enable people around the world to communicate effectively with each other, whether you're a merchant or a developer in the Bitcoin Cash community or a miner or an exchange or a fund that wants to invest in this community, we enable you to effectively communicate with each other using our tools there", Ikekhua shared.
"You also get some discounts for CoinGeek conferences and we're going to have a job board which makes it easy for you to discover new opportunities there as well. But the key thing is connecting with people", he added.
Another speaker from the evening was Semyon Germanovich of Voltaire.cash, a London-based crypto currency exchange.
"We're a Bitcoin Cash paired exchange, the mission is to create a Bitcoin Cash trading ecosystem. Our mission is to promote the growth of Bitcoin Cash as a global currency and we're really excited to see how we can give back to the Bitcoin Cash community as an exchange as well", Germanovich shared with CoinGeek.com.
When asked why events like the London BCH Speaker Series are so important for growing the Bitcoin Cash community, Germanovich pointed out two main reasons from his perspective.
"One is people can come and learn about Bitcoin Cash and I think they can sense the excitement that the speakers had here and I think people really conveyed well what they were doing, what they are going for and what's happening in the ecosystem", he said.
"The second thing is it gives big players and companies and people trying to do stuff a place to speak, to educate people about the excitement and tell people what they are doing", he added.
"I think if we hold events like this and we accept Bitcoin Cash and we sell Bitcoin Cash merchandise, it does contribute a little bit to adoption, even though it does seem quite nominal in the grand scale of things, I think its important", Germanovich said.
Note: Tokens on the Bitcoin Core (SegWit) chain are referenced as BTC coins; tokens on the Bitcoin Cash ABC chain are referenced as BCH, BCH-ABC or BAB coins.
Bitcoin Satoshi Vision (BSV) is today the only Bitcoin project that follows the original Satoshi Nakamoto whitepaper, and that follows the original Satoshi protocol and design. BSV is the only public blockchain that maintains the original vision for Bitcoin and will massively scale to become the world's new money and enterprise blockchain.