Sometimes high and low tech ideas feel like they were made for each other. That's what Lawry Trevor-Deutsch found when he combined an old, mechanical cooling system with a cryptocurrency mining facility. The result is the Blockchain Domes Heat Station which he operates for United American Corp near Montreal, Canada.
The key technology is a Victorian one, Lawry says. The Canadian well is a ventilation system that draws air through underground pipes, from which it emerges into a building at a constant temperature—crucially, much cooler in summer than the air temperature in Canada. The Blockchain Dome contains thousands of mining computers which need to be kept cool. So as the air from the underground pipes emerges beneath them, it heats up and therefore rises.
And here's the second clever part of the system: the air heated by the computers is piped through greenhouses, providing the plants with warmth in Winter and cooler than outside air in summer. And because the air is flowing and dry, it prevents mold and deters pests.
So the Domes business has two sources of revenue: renting out its computers to crypto miners; and renting out its greenhouses to farmers. It pays nothing for the cooling that the computers need; and the warmth that the computers generate and send into the greenhouses has also been paid for in the electricity charges to power the miners.
"It really is a win-win situation," Lawry says, "and at the same time we're creating a much better environment socially and for sustainability. It's creating jobs and it's reducing the carbon footprint."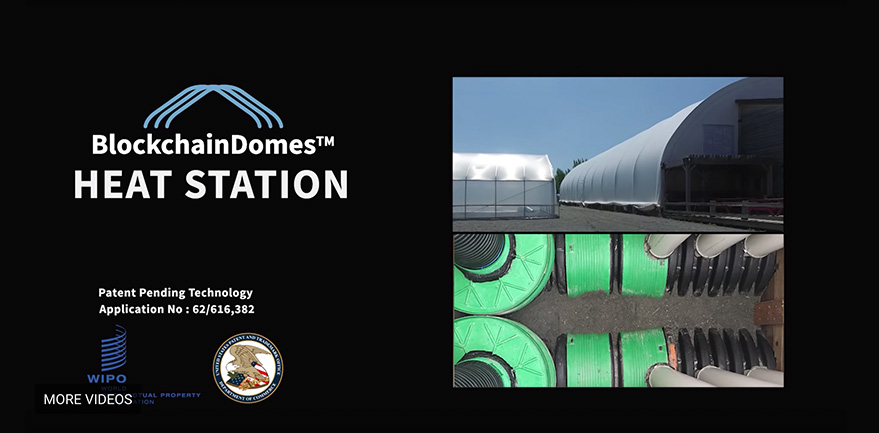 Even the power the Domes use is environmentally-friendly because it's hydro in Quebec. "Certainly, it's a greener way to mine" at a time when "a lot of the criticism of blockchain in general has been over its power consumption."
Currently, there are 6,000 miners at work and Lawry is considering two new properties which he hopes will be launched within the next year. And the company is expanding by using the same technology to power data centres too.
As far as Bitcoin SV, Lawry says he doesn't know what his clients are mining. He's just the 'landlord', with the mining clients and greenhouse occupants just his tenants. In thinking about growing the business, it is much easier to create domes in locations where there is cheap energy than trying to match economic energy supplies with an existing warehouse or other facility. "We will take the mining to the opportunity," Lawry says.
The company has a patent pending for the whole process and Lawry is bullish about the future: "You look at companies like Amazon and this is a natural for them. They're trying to reduce their carbon footprint—there's the perfect example." Now as the owner of Whole Foods, Amazon could combine their data centres with growing food in the greenhouse, in a low carbon environment.
"We're trying our best to be environmentally friendly and make money at the same time," Lawry concludes.
Hear more from Lawry Trevor-Deutsch in this week's CoinGeek Conversation podcast:
You can also watch the podcast video on YouTube.
Please subscribe to CoinGeek Conversations – this is the thirteenth episode of the podcast's second season. If you're new to it, there are also 30 episodes from season one to catch up on.
Here's how to find them:
• Search for "CoinGeek Conversations" wherever you get your podcasts
• Subscribe on iTunes
• Listen on Spotify
• Visit the CoinGeek Conversations website
• Watch on the CoinGeek Conversations YouTube playlist
New to Bitcoin? Check out CoinGeek's Bitcoin for Beginners section, the ultimate resource guide to learn more about Bitcoin—as originally envisioned by Satoshi Nakamoto—and blockchain.
To receive the latest CoinGeek.com news, special discounts on CoinGeek Conferences and other inside information direct to your inbox, please sign up for our mailing list.