More than two years ago, Binance made a spectacle of their "delisting BSV" move. Back then, we called out the lies behind that campaign. Look at Binance nowadays. Haunted by increasing regulatory pressure. Delisted themselves by renowned banks Barclays and Santander. Public FCA and FSA warnings concerning Binance Markets Limited and the Binance Group.
However, what really caught my attention lately was this tweet by Binance's CEO Changpeng Zhao (CZ):
Unpopular opinion: #buidl.

— CZ 🔶 Binance (@cz_binance) May 19, 2021
That short tweet has a lot in it.
First of all, it was the BSV blockchain space that had the "build" mantra instead of the "hodl" narrative since day one. In Bitcoin SV, we early on warned our readers of the hodl-mentality.
To be exact, it was foremost Dr. Craig Wright who called out the nonsense gambling attitude in BTC and other digital assets, pointing out that Bitcoin is to be used as cash and to value data:
So CZ is less "hodl" and more "buidl" now? How comes? What is next? Dr. Craig Wright is Satoshi Nakamoto?
Secondly, why is CZ saying "unpopular opinion"? To build things, to create things, to actually do something with the technology behind digital assets is not unpopular—it is what it is designed for.
CZ's Twitter audience is probably 99% clueless amateur "traders" that try to dump their "crypto bags" on the greater fool, and 1% could be following him hoping for a giveaway in BNB or the like. So within these kinds of people, to build something seems to be considered a controversial approach.
Keeping this in mind, it is refreshing to watch the CoinGeek Zurich conference again and experience what Bitcoin was actually invented for.
Within Bitcoin SV, topics like improving sustainability and saving of natural resources using BSV blockchain, or eGovernment running on the original Bitcoin are being discussed and implemented solutions are already live.
To build is an unpopular opinion? Not in Bitcoin SV.
Being delisted by banks should be a problem for Binance. But being delisted by decency, maturity and lack of respect for the own Twitter audience is a bigger problem though:
I'm Binancian https://t.co/5OCT2XXeLO

— CZ 🔶 Binance (@cz_binance) July 14, 2021
I am a Binancian? Well, I happily am not.
5 years later, the best time to buy #bitcoin is now.

— CZ 🔶 Binance (@cz_binance) July 16, 2021
Buy Bitcoin now, but NFA (not financial advice)? To me that seems like indeed giving financial advice and then saying, "not financial advice though, buddy."
I feel sorry for people following him and trusting Binance. If one only reads Binance's or CZ's tweets, the information about the regulatory pressure and delisting by banks is not really getting through to the customer.
This is what Binance and CZ should be tweeting about on a daily basis now: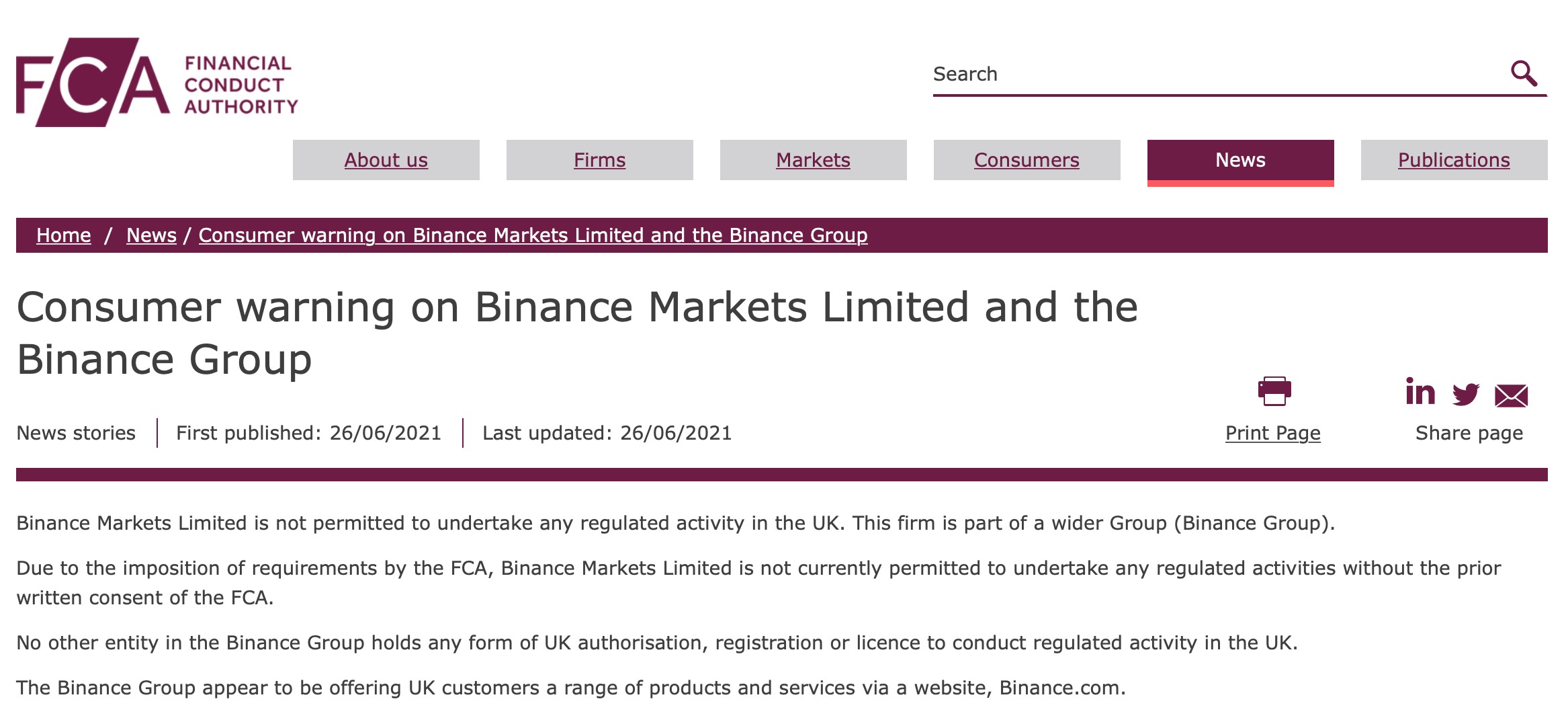 We are about to enter a phase that could be defined as "delisting of crypto" as a whole. Better learn the crucial difference between Bitcoin and "crypto" to navigate through this next phase.
Follow CoinGeek's Crypto Crime Cartel series, which delves into the stream of groups—from BitMEX to Binance, Bitcoin.com, Blockstream, ShapeShift, Coinbase, Ripple and
Ethereum—who have co-opted the digital asset revolution and turned the industry into a minefield for naïve (and even experienced) players in the market.
New to blockchain? Check out CoinGeek's Blockchain for Beginners section, the ultimate resource guide to learn more about blockchain technology.