UNLOCK 2019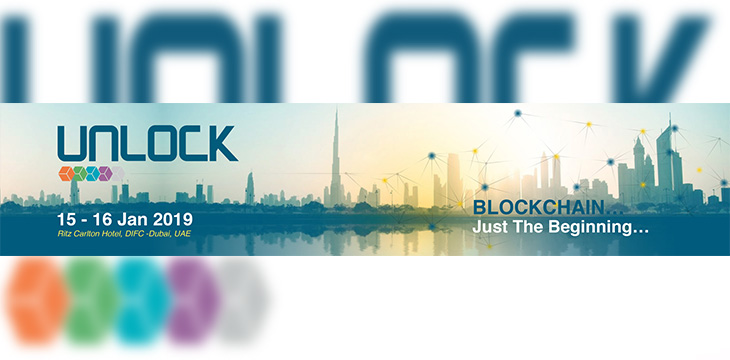 About this event
Why UNLOCK 2019
Blockchain is here to stay and is growing. Blockchain is set to have a market size of 2.5 trillion by 2021 from its current 548.2 billion in 2018. Over the last five years venture capitalists have invested more than $3 billion in Blockchain projects. Over 90% of the banking industry is studying Blockchain initiatives, and governments around the world are setting up regulatory and legislative policies to tackle the issues arising from this new force-field.
According to market research Blockchain use cases are developing across 20 industry verticals most notably in supply chain, identity, security, financial services-commerce, and infrastructure.
For these reasons and more, we are holding the second edition of UNLOCK in Dubai UAE on January 15th-16th 2019 at the Ritz Carlton Hotel DIFC.
UNLOCK 2019 Themes
 – ICOs, Crypto-currencies, and the future of exchanges in a regulated World
 – Scalability Interoperability and speed of Blockchain
 – Governments and the Blockchain
 – Investing in Blockchain
 – Utilizing Blockchain for Trade, supply chain and businesses
 – The Future of Blockchain
 – Tokenization of Everything in a Digital Economy
 – AI and Blockchain
 – Blockchain and privacy
 – Blockchain and Payments
 – Blockchain in transportation and energy
 – Blockchain as a Service and the role of telecom, cloud solution providers
 – Digital Identity and Blockchain
 – Expo 2020 in Dubai with Blockchain, AI, 3D and Big Data
Why Dubai and MENA region
UNLOCK is proud to be organizing the second edition of UNLOCK in Dubai. Dubai and the UAE were pioneers in terms of embracing Blockchain as a means to create a more efficient and optimal government service. Today Dubai is implementing 20 Blockchain case studies and the UAE has forged ahead with its Blockchain strategy to have 50% of governmental services on the Blockchain by 2021.
In addition countries across the GCC and MENA region are developing strategies when it comes to Blockchain. Bahrain is working on its Fintech sandboxes which include crypto-currency exchanges and startups. KSA is also on the path to implementing Blockchain in its 2030 strategy with organizations such as KSA Riyadh Municipality, STC and SAMA.
As such the MENA region is ripe for not only Blockchain use cases but also a growing Blockchain ecosystem scene in terms of startups and investors.