The Digital Wealth Conference
The Digital Wealth Conference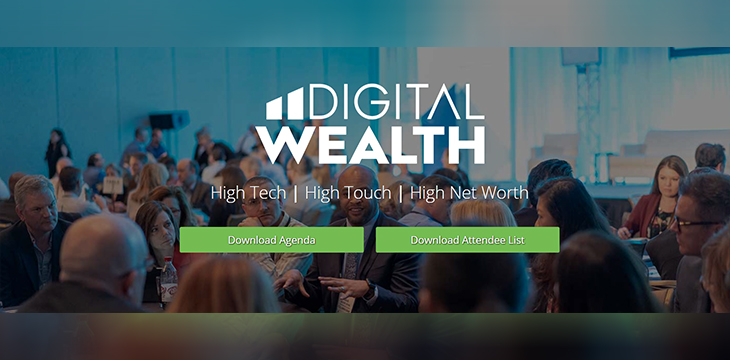 About this event
The Digital Wealth Conference
Technology and changing demographics are forcing an evolution for the wealth management industry. Your clients are tech savvy. They expect a level of connectivity and control unlike ever before. Wealth Management firms must rethink, reimagine, and retool their digital assets if they are to succeed.
Digital Wealth is a two day forum of action-packed stories, conversations and connections with the top minds in wealth and asset management. We will explore how todays most innovative and forward looking firms are tackling digital transformation and emerging technologies that help better serve high net worth clients.
You'll get actionable strategies, use cases, and answers to your most pressing questions. This is THE meeting place to benchmark against the best of the best in digital transformation for high net worth clients.
The Only Event Focusing On High Net Worth Clients
Receive high-net-worth insight, that makes a big impact. Our content is created through hundreds of research hours with executives just like you. Based on your feedback, the Digital Wealth agenda is narrowly focused on high-net-worth clients whose needs are more complex, making this a one-of-a-kind event. This is a unique opportunity to gain the insights you need to provide your clients with the well-tailored experiences they want, and to ensure that you remain competitive in an evolving landscape.
Learn From Those Leading The Way
Get actionable insights to transform your wealth management experiences. Our agenda is 100% focused on your biggest challenges and opportunities. You'll hear from the trendsetters, visionaries and trailblazers that are revolutionizing the wealth management industry. With content that deep dives into topics such as emerging technology, client acquisition, seamless onboarding, personalization, and cultural innovation – you'll walk away with pages of strategies delivered by leading executives that are in the trenches, doing the work.
The Most Interactive Wealth Management Event, Ever
Build connections like never before. Benefit from tons of interactivity with over 10 hours of discussion groups, creative think-tanks, roundtables, and structured networking activities every day. This is your opportunity to develop relationships, make new contacts and speak "off-the-record" with your peers.