Pure // Accelerate 2019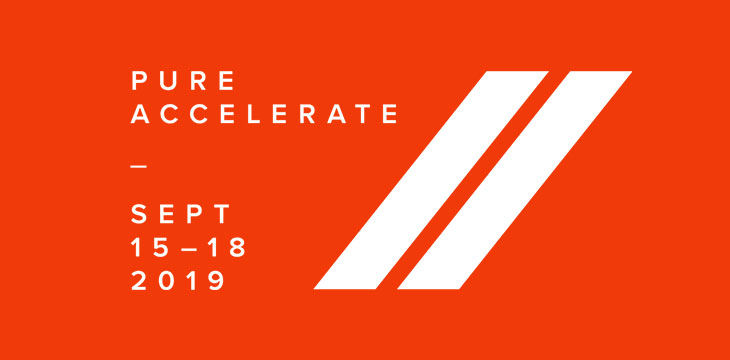 About this event
PURE//ACCELERATE 2019 – WHERE TECHNOLOGY AND INNOVATORS MEET
Pure//Accelerate™ is where technology and innovation meet. It's a place to learn about new products, solutions, and integrations. It is a place for technology enthusiasts to learn about industry trends, network with like-minded peers and partners, and learn how to stay ahead as the tech landscape rapidly changes.
Equal parts education, information, and inspiration, the mission of Pure//Accelerate is to give you an edge in the world of technology. It's an experience that puts you at the absolute center of product innovation and business transformation.
WHY ATTEND
Pure//Accelerate is focused on helping innovative builders successfully navigate their hybrid cloud journey.
It focuses on strategic considerations, technology deep-dives, success stories and case studies, practical hands-on training and certification, and peer-to-peer networking. It is the conference where IT change agents go to learn skills, network to become more relevant, and gain the tools to excel in their future jobs.
ENGAGE
Interact and engage with peers, partners, and our experts. Build your knowledge and your personal network through sessions, keynotes, and conference opportunities.
DISCOVER
Get the information you need to be a thought leader, challenger, and innovator. Immerse yourself in the evolution of the virtualized, hyper-accelerated, flash-based world.
ACT
Learn skills and strategies you can use to improve operations for your company today – and build for the future. Use what you learn to move ahead of your competitors.