Pharma Blockchain 2019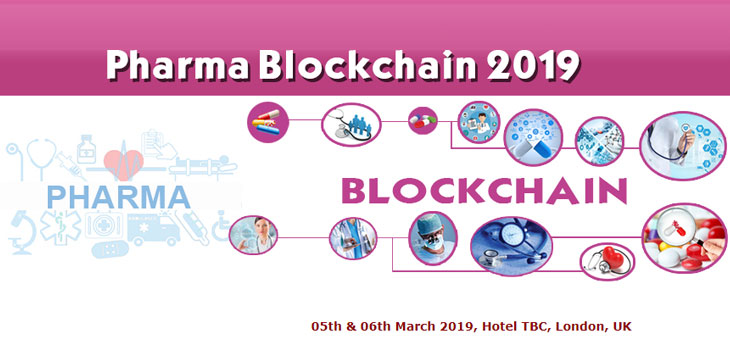 About this event
CONFERENCE INTRODUCTION:
One of the most talked about technologies of 2018 is Blockchain. The blockchain technology market is expected to grow to 2.3 billion US dollars by 2021, from 339.5 million US dollars in 2017. With an annual growth rate of 61.5%, it is one of the fastest growing technologies in the healthcare industry. It is vital to first understand the nature of blockchain technology, to differentiate the hype from the reality and then to see real-world case studies of how blockchain can be, and is being, applied to pharma and healthcare systems. Blockchain is quickly increasing in interest and has received praise for its far-reaching applications, mainly because of its recent expansion into pharmaceutical companies. Blockchain holds great potential as a unified solution for efficient and secure management of pharmaceutical supply chains around the globe. Its uniquely distributed network would enable the development of complete end-to-end supply chain management for every company and product. By allowing multiple stakeholders to participate in distributing the network, it creates an incredibly secure database, without the patchwork configuration of previous supply chain technologies. Some of the most important features of blockchain in pharma have yet to be fully developed and realised in the industry.
Pharma Blockchain 2019 will address some of the most achievable possibilities of integrating blockchain within pharma and healthcare. Through a mixture of practical, lectures and roundtable discussions specifically designed to help you get to grips with the technology, learn from those already benefitting from blockchain systems and overcome obstacles associated with integration, the event will help you join the future of the pharma and healthcare industry. With enhanced networking sessions, an evening social and a buzzing exhibition room the event is one not to be missed.
It gives us immense pleasure in welcoming you to "Pharma Blockchain 2019"
KEY THEMES:
 – Blockchain Technology for Pharma and Healthcare
 – Why blockchain is a must to learn technology?
 – New Technologies in Blockchain (AI/ Machine Learning, IoT)
 – What are the most promising application areas for blockchain within healthcare?
 – Market overview and trends
 – Latest updates and hot topics relating to the role of the new and latest technologies
 – How can Blockchain transform pharma with AI, IoT and Big Data?
 – Opportunities and challenges
 – Overcoming the hype
 – Digitalisation – Protecting the health data
 – Real World use cases of Blockchain for medical devices
 – Speeding drugs to the market
 – Securing your supply chain with Blockchain
 – Strengths & Potential roadblocks for adoption of Blockchain
 – Blockchain in Logistics and Supply Chain: Trick or Treat?
 – Use cases for blockchain in pharma
 – Enabling healthcare professionals to focus on what's important
 – New business models for democratising health
 – Blockchain technology and start-ups – where do you get started?
 – How to involve patients better to develop drugs
 – The developing regulatory framework in advanced and developing markets – EU, USA & ROW
 – Where to From Here? Disruptive Economics of Blockchain Technology
 – Be part of a major networking opportunity
WHO SHOULD ATTEND:
CIOs, CEOs, CDOs, Vice Presidents, Presidents, Heads, Directors, Team Leaders, Evangelists and Senior Scientists from the following areas: 
 – Pharmaceuticals
 – Biotech
 – IT
 – Artificial Intelligence
 – Data Science
 – Machine Learning
 – IoT
 – Cloud
 – Advanced Analytics
 – Innovation
 – Big Data
 – Deep Learning
 – Bioinformatics
 – Regulatory Compliance
 – New Product Development
 – Process Science
 – Portfolio Management
 – Research & Development
 – Business Development
 – Business Operations
 – Scientific Affairs
 – Commercial Affairs
 – Marketing
WHY SHOULD YOU ATTEND:
Get more from the event, enjoy and make the best out of our dedicated networking drinks time, meet the leading international vendors showcasing the products of tomorrow in the co-located exhibition. Expand your knowledge of the latest business models and strategies in the high-level conference. Whether you are on the branded or generic side, you cannot afford to miss this opportunity to benchmark your tactics and strategies against the industry leaders who will be the first to traverse the pathway.