Interop2019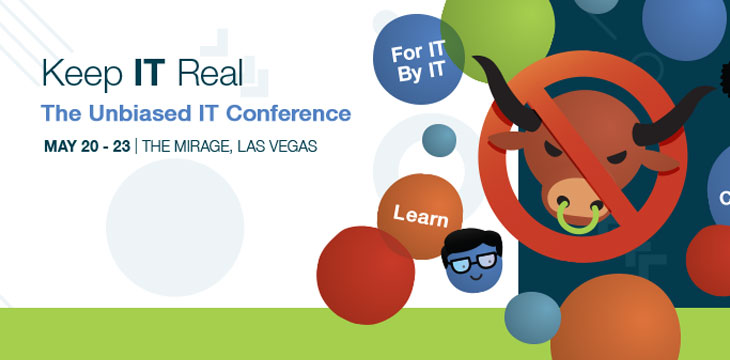 About this event
Independent & Objective IT Education
Tired of vendor events pushing their own agenda?  Come to Interop, the ONLY IT Conference where you'll get a complete objective view of what's happening across all IT disciplines – not a weeklong commercial.
Built from scratch each year with the help of an independent review board, Interop is where you can come to discover NEW strategies, products and services, and hear from peers experiencing the same challenges and issues you are. The lessons learned at Interop are REAL and can be applied immediately.
For more than 30 years, Interop has provided an independent space where IT pros can meet and learn from each other about what's really going on in the industry.
Conference Topics
Cloud
Data & Analytics
DevOps
Emerging Tech
Infrastructure
IT Strategy
Professsional Development
Security
Peer Learning From Practitioners At Top Organizations
Interop is more than a conference; at its heart, it is a like-minded community of IT practitioners and advocates who are passionate about helping their peers and fostering the next generation of technologists. Our independent track chairs select speakers who wrestle with the same challenges you do and are ready to share what they've learned from their own hands-on experience.
Dive Deeper into Topics of Interest
Interop Summits are one- or two-day programs designed to provide an immersive learning experience in a particular subject area or trend, taking you through a progression of lessons with multiple speakers and subtopics. Our half- and full-day workshop sessions provide in-depth instruction on a particular skill or technology. Here are a few of our most popular ones:
Networking Summit
Discover how to transform your network operations through automation and innovations like NetDevOps, zero-touch provisioning and data modeling languages like YANG.
Cybersecurity Crash Course
Get up to speed on today's security challenges and the attack landscape. Learn what it takes to protect critical data and how to respond when you're hacked.
DevOps Foundation Certification
Take advantage of this two-day program, presented by the DevOps Institute, which allows attendees to earn a DevOps Foundation Certification at no additional cost.
What's New in Wireless: Emerging Technology and Services
From AI for Wi-Fi, LoRA radios, multi-gig point-to-point, IoT, SDR and sensors, hear how to leverage wireless technology to solve problems, save money, and build reliable networks that are easily managed.
IT Leadership Summit: Upgrade You Career
Take your career to the next level by learning how to sharpen your "soft" skills, including communications, negotiation expertise, and obtaining buy-in for business transformation.
Tactical Infosec: A Hands-on Guide from the Attacker's Perspective
This morning workshop will focus on practical network and system hardening tips to make attackers work much harder as they try to move laterally, escalate privileges, and exfiltrate data.
Drive Your Business & Career Forward
Interop offers a unique set of programming to help you address IT's most important challenges, including in-depth training on Security, Networking, Cloud Computing, DevOps, Wireless and Collaboration.
Boost your IT strategy and management skills and gain critical insights into hiring and managing an increasingly diverse workforce with our Professional Development and IT Strategy tracks.