Guru Blockchain Forum 2019
Guru Blockchain Forum 2019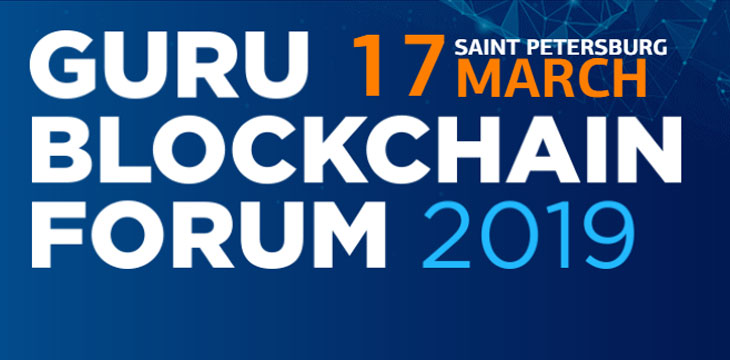 About this event
Large open international platform for experts of blockchain technologies, business, developers, governmental regulatory authorities and crypto industry.
TOPIC AREAS OF FORUM:
 –  Blockchain – implementation into business processes, manufacturing, logistics and education spheres.
 –  Cases of successful products and projects for simplifying blockchain technologies and cryptocurrencies implementation.
 –  Blockchain developments: CPA, AI, IOT, BIG DATA, WEB 3.0, smart-contract.
 –  Governmental regulation of blockchain technologies and cryptocurrencies.
GURU BLOCKCHAIN FORUM 2019 & EXHIBITION
KEY EVENT OF THE YEAR
The biggest forum, unifying experts in blockchain technologies, cryptocurrency industry, business and authority representatives, developers of СРА, AI, IOT, BIG DATA, WEB 3.0, smart-contract.
WHAT WILL YOU LEARN?
Comprehensive information about: implementation of blockchain technologies in areas of business and education, promising projects, technologies, startups and finished products, individualities of cryptoindustry and blockchain technology regulation, trends of cryptocurrencies market.
MAIN FEATURE
Forum showcases exclusively useful information for all representatives of this sphere. Value and practical solutions without hidden ads in speeches, milk-and-water or speculations.
WHAT 2018 FORUM WAS LIKE?
Thanks to success of a previous Guru Blockchain Forum in 2018 (Minsk, May 26th) we can speak with confidence about reliable cooperation, partnership and we guarantee high level of event organization. In Minsk more than 500 people visited the forum and more than 15 international speakers, top-class businessmen and analysts!
SPEAKERS AND MENTORS OF GURU BLOCKCHAIN 2019
Guru Blockchain Forum – is a high-level event. We invite only TOP people of science, IT, blockchain technology as speakers, including executives of companies, business and government representatives.