The Great Reset – Blockchain 2019 and Beyond
The Great Reset – Blockchain 2019 and Beyond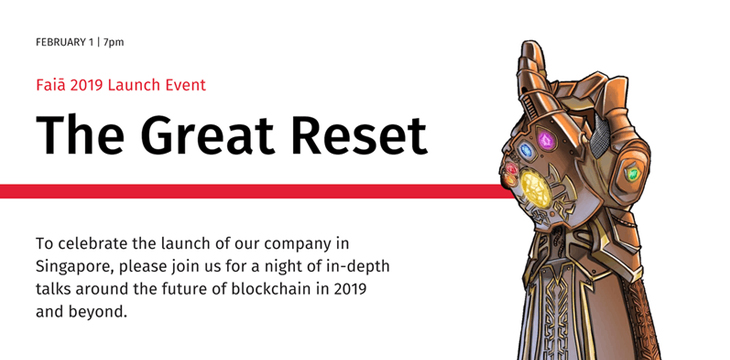 About this event
Interested in learning more about blockchain technology? Want to know why there may be only one or a few in the long run? Join us for a night of intriguing and in-depth conversations around the future of blockchain.
Bringing people and technology together, new marketing and consulting firm, Faiā, presents a night of looking at the future of blockchain in 2019 and beyond.
We'll be joined by a few special guests, including the likes of Jimmy Nguyen, CEO of nChain Global and Founding President of the bComm Association. Jimmy and nChain were recently at the centre of the recent BCH/BSV split, which had a knock-on affect on the rest of the market. You'll be able to hear directly from Jimmy as to why Bitcoin matters and what's in store over the next decade.
Other things you'll learn on the night include:
Why there may be only one or a few key dominant blockchain(s) in the long run
Why on-chain scaling must happen sooner than later
What we can expect from regulatory bodies in 2019 and beyond
What it's like to be a CEO in this rapidly-evolving space
The future of exchanges
ICOs to STOs and what's next
We'll also be joined by Stefano Virgill, CEO of Vox, a seasoned entrepreneur and speaker who owns a startup boutique advisory firm in Singapore.
Stay tuned for more additions as we get closer to the date!
Since this our first event in Singapore, and the official opening of our doors for business, we look forward to seeing you there and hope you enjoy the night with us!