Finovate Europe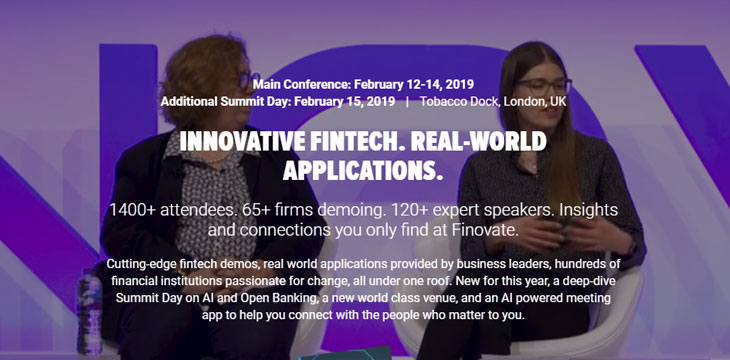 About this event
INNOVATIVE FINTECH. REAL-WORLD APPLICATIONS
1400+ attendees. 65+ firms demoing. 120+ expert speakers. Insights and connections you only find at Finovate.
Cutting-edge fintech demos, real world applications provided by business leaders, hundreds of financial institutions passionate for change, all under one roof. New for this year, a deep-dive Summit Day on AI and Open Banking, a new world class venue, and an AI powered meeting app to help you connect with the people who matter to you.
Live demos of new innovations
Across the first two days, 65+ fintech companies will have just 7 minutes to demo their latest innovations live (no slides or video allowed). Hard to imagine? Check out 2018 demos in Finovate's video archives.
As the fintech market continues to expand, we're here to distill it into just a few days. We review hundreds of services and solutions from across the fintech spectrum and select the ones you need to know about: exciting technology with real-world applications.
Beyond the demos: insights from global fintech leaders
On day three, you'll hear expert insights on the latest regional trends and macro issues affecting financial technology.
Gain the actionable insight you need, get solutions to your business problems and leave with dozens of new ideas for your future product road-map and strategic planning.
1400+ senior-level attendees
Join 1400+ senior executives from financial institutions, venture capitalists, press, industry analysts, bloggers, regulators and entrepreneurs from all over the world.
Organisations attending this year include:
Adobe, American Express, Barclays, BNP Paribas, Deutsche Bank, Fidelity, Lloyds, MUFG, Morgan Stanley and many more!
Covering the ABCs of fintech
There's a fintech trend for almost every letter of the alphabet…AI, Blockchain, Crypto and many more. So how do you know what services and solutions are here to stay and which ones are right for your business?
Finovate cuts to the core of innovation to show you trending technology that you can actually use.
Specialised focus. Specialised knowledge.
The conference day (February 14) agenda features seven targeted streams. Making sure you can see what you need to, no matter your focus.
Topics include innovation in payments, technology in practice, the future of regtech and more.
Networking measured in quality and quantity
We've made it easier to connect with the people you want to meet:
 – hot-topic round tables
 – high-impact networking sessions
 – NEW – the Brella networking and matchmaking app
Summit Day
NEW for 2019, don't miss our dedicated add-on summit day on 15 February, taking a deep dive into the next revolutions facing our industry.
The two summits running concurrently, an Open Banking Summit and an AI Summit. Switch between them at your leisure!
Something for everyone
Whether you're a banker, venture capitalist, entrepreneur or member of the press, Finovate has the insight and ideas you need to stay current.
FinovateEurope will help you stay informed and find the next big advantage – before your competition does.