Fearless in FinTech – West
Fearless in FinTech – West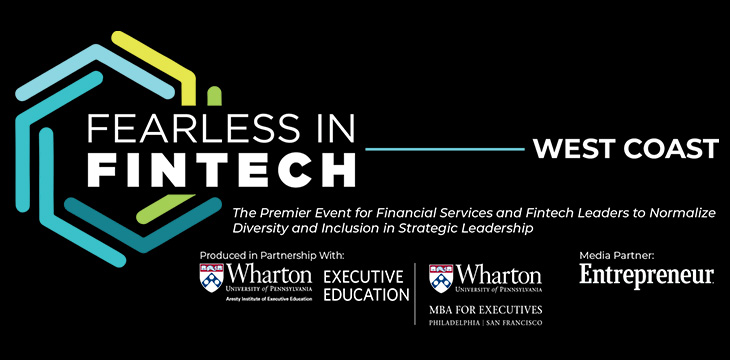 About this event
WHAT IS FEARLESS IN FINTECH WEST?
Inclusive and representative financial and technology institutions know that diverse perspectives are key to innovative and value-creating leadership.
Fearless in FinTech offers the unique opportunity to learn from and engage with a full spectrum of leaders representing the most creative and influential Financial Services and FinTech organizations. We recruit diverse participants you may not hear from at other events to provide a comprehensive view of inclusive and innovative leadership in fintech.
With a program designed to translate big picture ideas into specific practical tactics, you will leave Fearless in FinTech ready to take charge of transformative leadership at your organization.
Innovative Discussions & Actionable Insights
The summit will ask the hard-hitting questions about representation, inclusion and innovation in leadership that have yet to be explored. You'll leave with practical, actionable, board-room ready strategies that can drive change in your organization.
Case Studies & Keynotes
Get an inside look into adapting, preparing and innovating for the future through exclusive keynotes and case studies, brought to you by fearless female leaders in the industry.
Unrivaled Networking Opportunities
Connect with and learn about the latest challenges and strategies in finance and fintech from senior executives and fellow industry enthusiasts. We build in plenty of networking time so you can build the business relationships that are key to success.
WHAT DOES A FEARLESS EVENT LOOK LIKE?
Our Fearless events are designed to bring together a diverse speaker faculty and audience to tackle the questions about diversity and women in leadership in some of the most challenging industries. Attendees of our Fearless events leave with hands-on strategies for advancing their respective industry and collaborating effectively within that space.
Take a peek at the audience breakdown of our December 2018 Fearless in FinTech event.