European Blockchain Investment Congress
European Blockchain Investment Congress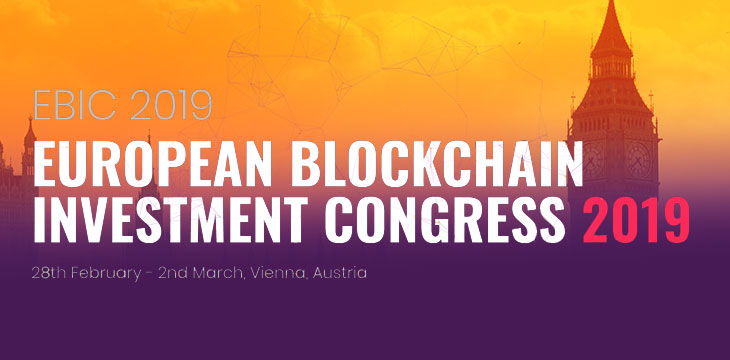 About this event
The event kicks off on February 28th, 2019, and focuses on the future Blockchain technology and it's the impact on society.
The three-day, top-level event will encompass content from leading brands with inputs from renowned international speakers and panels that present cutting-edge Blockchain technologies.
The event has been established to provide insights into of the challenges that key industries are about to meet. Including, but not limited to, the legal sector, retail, financial service, healthcare, insurance, energy, copyright, government, real estate and so on.
The congress agenda will present a series of expert keynotes, multilateral panel discussions and solution-based case studies as well as ICO presentations and an ICO competition.
The main focus of EBIC 2019 is to unite leading ICOs with investors from various sectors.
EBIC 2019 EMBRACES BLOCKCHAIN
– Learn how Blockchain business models will affect all kinds of markets from shipping to commerce.
– Experience case studies from companies across industries and learn from their successes and failures.
– Industry experts and leading global startups will discuss aspects from advertising implications to security concerns and potential regulation.
– Get an impression of how Blockchain technology can move the development of society forward with innovative opportunities to remove inefficient systems and processes within and across organizations.
EBIC 2019 CONNECTS ICOs & CAPITAL
Gain insight into current cases of Blockchain uses from both financial and non-financial institutions:
Payments (e.g. remittances and cross-border payments), settlements, Blockchain as a service, identity and supply chain management and its use as an ultimate record keeping facility
Meet some of the most interesting ICOs whose projects are being prepared for worldwide implementation and who are opening, or are already open, to investment capital
Learn how ICOs serve as a new mechanism for crowd funding that emerges outside of traditional financial systems.