Digital Automation via AI and RPA in Financial Institutions 2019
Digital Automation via AI and RPA in Financial Institutions 2019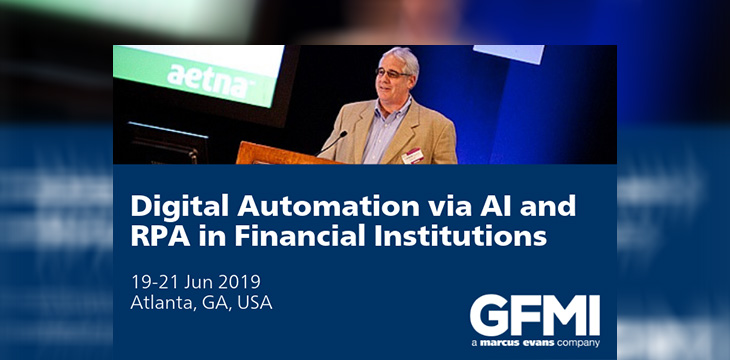 About this event
Why You Should Attend
This premier GFMI conference takes a strategic look at how financial institutions can automate their processes through RPA, AI and IPA to streamline their operations, combat fraud, and better serve their customers. Delegates will hear about what has and has not worked for their peers and why, as well as learn more about how to identify the right opportunities for digital automation. Methods to optimize current processes and prepare for the adoption of the technology will be discussed. Techniques for how to make a compelling business case, showing ROI, and strategies to successfully integrate robotic and cognitive technologies into existing processes will also be evaluated.
Key Topics
• Webster Bank assess methods to rethink your workforce and overcome the 'fear factor' surrounding digital automation
• Manulife discuss strategies to enhance your organization's understanding of emerging technologies
• BNY Mellon explore how financial institutions can optimize their current processes to prepare for automation
• Voya Financial examine techniques to institutionalize automation at an enterprise level
• Discover demonstrate how to build and validate AI and machine learning models in a financial institution
Why Choose GFMI marcus evans?
marcus evans specialises in the research and development of strategic events for senior business executives. From our international network of 63 offices, marcus evans produces over 1000 event days a year on strategic issues in corporate finance, telecommunications, technology, health, transportation, capital markets, human resources and business improvement.
Above all, marcus evans provides clients with business information and knowledge which enables them to sustain a valuable competitive advantage and makes a positive contribution to their success.