Crypto Event Indo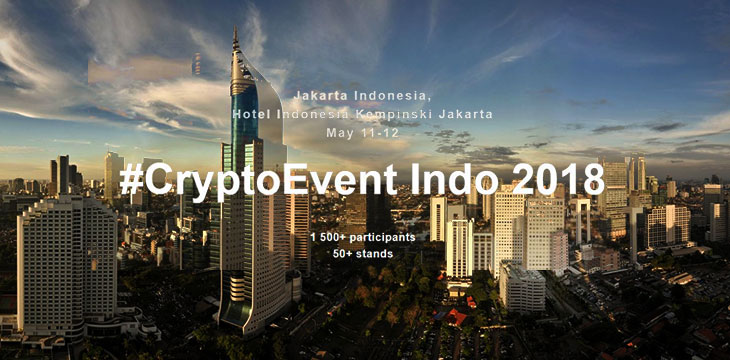 About this event
About #CryptoEvent Indo
The first large scale international blockchain conference & exhibition in Indonesia 
Overview and prospects of Crypto-currencies in Indonesia
Indonesia is one of the largest economies in South East Asia with population of more than 260 million. It is one of the biggest potential markets for blockchain technology, digital assets and fintech in the world.
Cryptoevent Indo 2018 enables global players to interact and meet with various potential investors, venture capitalists and users of various blockchain technologies and platforms from South East Asia mainly from Indonesia. INDODAX (the digital asset exchange) is expected to have more than 1.5 million members trading digital currencies by the end of 2018.
Location: Jakarta, Indonesia, Hotel Indonesia Kempinski Jakarta
Blockchain technology promises transparency and efficiency, which brings a positive outcome. With the support from the government, industries and communities, we think it is only a matter of time until the blockchain technology is widely used within the nation.
Various ICOs and investment opportunities will be showcased during Cryptoevent Indo 2018. The first of such international blockchain events in Indonesia
You will meet more than 1500 investors and blockchain specialists on #CryptoEvent Indo 2018.
The #CryptoEvent Indo 2018 is –
More than 50 companies will present their booths:
– Cryptocurrency exchanges
– Investment funds
– Companies starting ICO
– Providers of crypto-mining equipment
– Blockchain-platforms
– Trading apps and services
– Software developers
– Other specialized organizations
#CryptoParty
After the #CryptoEvent Indo occurs participants will have access to #CryptoParty with speakers from conference and investors.
By tradition of the event, good music, quality drinks and interesting people await you throughout the whole party.
Feel free to exchange business cards, find customers, partners and new employees.
Accommodation
HOTEL INDONESIA KEMPINSKI, JAKARTA – limited rooms available for Cryptoevent Indo's participants. Kindly fill in the form attached form and liaise directly with Kempinski for special rate.