CoinAdvice Blockchain Conference 2019
CoinAdvice Blockchain Conference 2019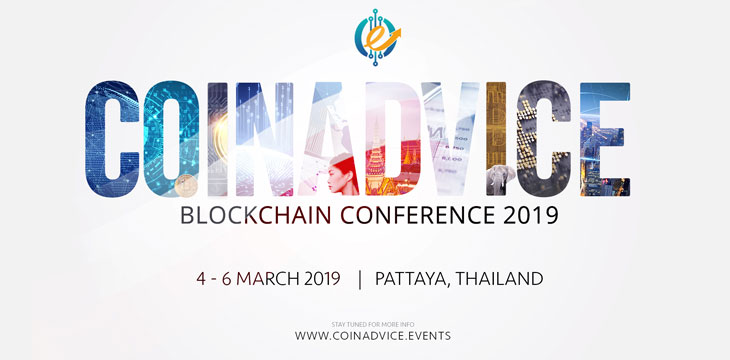 About this event
ABOUT COINADVICE BLOCKCHAIN CONFERENCE
Coinadvice is a leading conference and event organizer which specializes in professional high-level business conferences with a special focus on blockchain and cryptocurrency domain. Our network of domestic and international partners provides prompt solutions for any company's networking requirements. We prevail to advocate for the secure and responsible integration of blockchain and digital assets into mainstream life. Our primary goal is to help the crypto community in growing, to help the participants in understanding the basics, and to share our research with experienced enthusiasts.
NETWORKING
This next year over 1500 people will come to Pattaya for CoinAdvice Event. You'll be joined by the CEOs and founders of the world's biggest companies, the most promising new startups on blockchain technology, influential investors and leading ICO's.
LEARNING
We live in uncertain times for tech and business. At Our conference we welcome the people who are tackling the big challenges facing industry today. Our stages cover topics of Blockchain Technology and how crypto helps blockchain technology in every industry.
EXPOSURE
CoinAdvice is the world's largest gathering of coin owners, attracting more than 100 global journalists and 250+ speakers where they all come under one roof for the first time.
Featured Topics:
EVOLUTION OF ICOS TO STOS
Let's understand and watch what more in 2019
FUTURE OF TOKENECONOMICS
Rewiring trust through token-driven economy
SIGNIFICANCE OF BLOCKCHAIN TECHNOLOGY IN IOT
BUSINESS INTEGRATION
Incorparate blockchain technology into existing businesses.
REGULATORY JOURNEY FOR CRYPTOCURRENCY MARKET SO FAR
Analysis of it's market manipulation and improments
DAICO MODEL
New model of fund-raising and potential challenges with DAICO
RE-INVENTING CLOUD WITH BLOCKCHAIN
Building existing cloud comupting infrastrusture better.
BLOCKCHAIN TECHNOLOGY IMPLEMENTATION IN MAJOR INDUSTRIES
Retail, Real-estate, Finance & Others
THE CONVERGENCE OF AI AND BLOCKCHAIN
Challenges and benefits of this alliance