Blockchain Life 2019 Asia
Blockchain Life 2019 Asia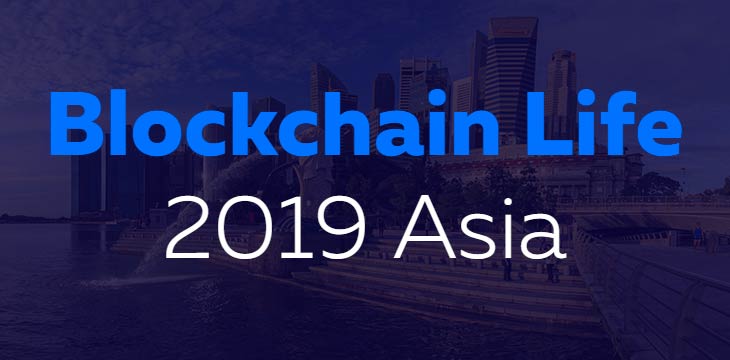 About this event
One of the biggest and most important forums on Blockchain and Сryptocurrencies in the world
About the forum:
Blockchain Life 2019 Asia is one of the most famous and important events in the blockchain industry. This is a forum which has a real influence on the international crypto market, global blockchain development and world digital economy.
Top speakers from all over the world, best companies and special guests. More than 3 days of amazing speeches, meetings with crypto legends and deals on $mln in expo zone.
Welcome to the city of innovation, welcome to Blockchain Life 2019 Asia in Singapore!
Attendees
CRYPTO ENTHUSIASTS
Meet the most famous representatives of the international crypto community and establish effective cooperation with them. All the insights about trends, ways of earning and new opportunities will be heard from the stage and in the lobby.
INVESTORS
Get acquainted with the best and promising projects in the industry, find out which cryptocurrency and projects can be profitable now.
BUSINESS OWNERS
Learn how you can earn by investing free money in cryptocurrencies and blockchain projects. Be the first to learn how to implement blockchain into your business today and earn more.
STARTUPS
Find out about all stages of the project creation and promotion: documents, team, advisors, advertising, traffic, funds, ratings, etc. Win the attention of investors by presenting your project at a StartUp Pitch. If your ICO is already over, find out how to quickly place a token on the world's largest crypto exchanges and properly manage the value of the token.
MINERS
Find out all the features of earning on mining during the unstable rate of cryptocurrencies. Get advice from the world's mining companies and get acquainted with the latest equipment of 2019 right at the exhibition.
DEVELOPERS
Find customers for blockchain development and discover innovative solutions in this field at one of the biggest forums in the world. Thousands of BL 2019 participants need to develop on the blockchain, and a personal acquaintance will play a significant role in their choice of a contractor.
Exhibitors:
ICO / STO startups
Cryptocurrency exchanges
Blockchain projects
Leading services
Rating and listing agencies
Advertising agencies and networks
Mining manufacturers and equipment suppliers
Blockchain developers