Blockchain Investment Technology Conference Middle East
Blockchain Investment Technology Conference Middle East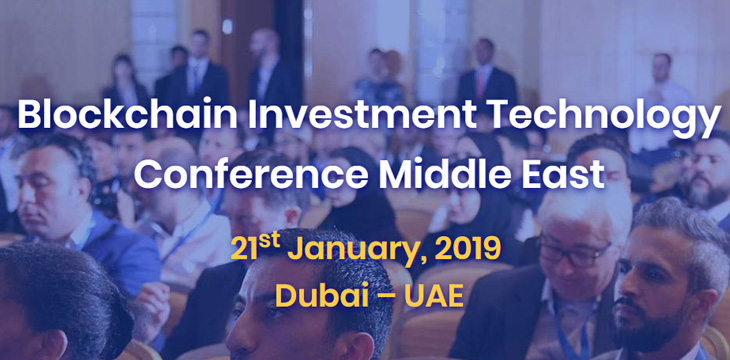 About this event
The 2nd Edition of the BITConME event series organized by AEBICON Group promises to yet again deliver an unmatched business-driven atmosphere. The event has been set in place strategically to accommodate more Institutional and Individual Investors from the Middle East with the addition of Saudi Arabia, Oman, Kuwait, Bahrain and Lebanon to assess ICOs and STOs and to partake in lucrative investment opportunities. Deemed as one of the most unique event of its kind in the region, BITConME attracts over 800 delegates globally and remains the only Blockchain event in the Middle East which focuses on case-study based presentations in ongoing and upcoming Blockchain based projects.
The demand for Blockchain Technology remains on the rise and this is owed to the growing adoption of distributed ledger technology across multiple industries globally.
Dubai's 'Blockchain Strategy 2020', also sends a clear statement that even government entities now see value in the adoption of Blockchain Technology as the Middle East continues to gain steady momentum in the wide spread adoption of the Technology.
Participants of the Blockchain Investment Technology Conference Middle East (BITconME) will experience a unique event platform where they listen to experts from leading Blockchain companies around the globe and get rewarded with numerous business development and investment opportunities.
Why Dubai
Dubai is one the seven cities that make up The United Arab Emirates and is well known of luxury shopping, ultramodern architecture and a lively nightlife scene. Dubai has emerged as a global city and business hub of the Middle East. The city has become iconic for its skyscrapers and high rise buildings, in particular the world tallest building, the 'Burj Khailfa'. Dubai was also rated as one of the best places to live in the Middle East by American global consulting firm, Mercer.