BLOCFEST – A Blockchain Festival & Conference
BLOCFEST – A Blockchain Festival & Conference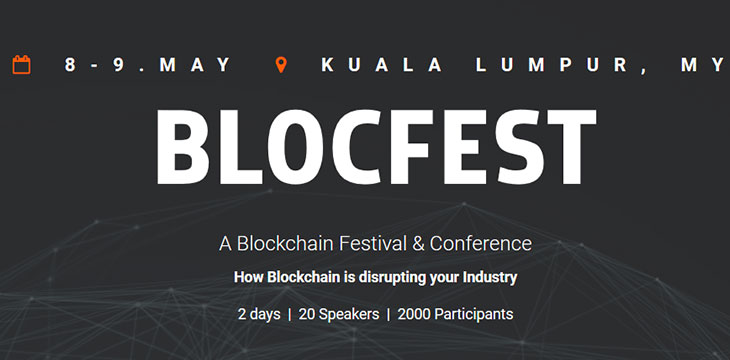 About this event
What is BLOCFEST?
Malaysia's first inaugural Blockchain event – Blocfest, aims to be the biggest blockchain event in Malaysia and regional game-changer in Southeast Asia by education through experts, raising awareness, and by creating a stronger Blockchain community, rich with knowledgeable participants who are willing to learn and grow together.
Key topics of discussion during Blocfest:
Impact of Blockchain Technology in private & public sectors
Blockchain platforms and their benefits
Smart Contract and its benefits
How do you tokenise a business and the benefits that come with it
Cryptonomics – why & how it exists in the Blockchain ecosystem
Why Should I Attend
It is your opportunity to learn, discuss, explore and network with industry-standard players on the potential and possibilities of this explosively growing technology. Deep dive into the inner workings of Blockchain with renowned experts and speakers from around the globe brought together in one place, just for you.
The Next Internet
What is blockchain exactly? It is technology that allows digital information to be distributed but not copied, giving the power to the public when it comes to data sharing and accessibility. Blockchain databases are not located in one single location, therefore information is easily verifiable, easily accessible, but also making it decentralized which makes it hacker-proof. Since this database is located anywhere and everywhere simultaneously, it's accessible to anyone on the internet.
To find out more, purchase your tickets now, and open your eyes to the world of blockchain techonology, at Blocfest.