2nd workshop on Blockchain and Smart Contract Technologies 2019
2nd workshop on Blockchain and Smart Contract Technologies 2019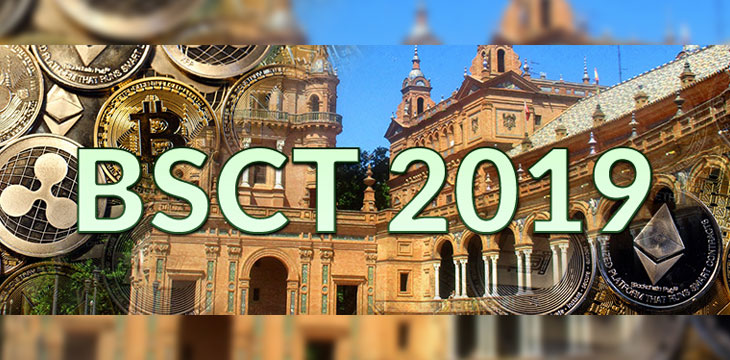 About this event
Blockchain and smart contracts became a hot topic especially in recent year. News around the world cover the matters of cryptocurrencies with bitcoin bubble on forefront. The number of published studies is rapidly growing. Even notable financial institutions turn their attention to potential blockchain revolutional outcomes despite that the technology was initially to overthrow their position. That is why profound and comprehensive reflection on the concerned issues is needed. And it is needed urgently as the technology progresses and regulational bodies must act in order to define some common ground and rules of conduct for all the involved parties.
When in 2008 bitcoin has been invented it seemed that numerous problems have been overcome and that it will pave a certain path for a new era of digital currencies. In fact after a decade it becomes more and more evident that it also introduce further challenges perhaps even more fundamental than it initially solved. As a digital society we are currently in a state of various uncertainties. We have a vast and thriving ecosystem of over 2000 cryptocurrencies. Some of them are in fact merely clones (or rather "forks") but some differ from others immensely. The bitcoin itself turned into a major speculative instrument. And the pseudo-anonymous nature made it a financial asset of choice for gray markets. In the meantime the ICO emerged as a cheap yet risky replacement for business financing and fund-rising opportunities. The various consequences and perturbations of abovementioned and others effects are far from being predictable in long run.
The second International workshop on Blockchain and Smart Contracts Technologies (BSCT), co-located with 22nd International Conference on Business Information Systems (BIS 2019) being held in Seville, Spain is a continuation of previous year successful event. It should be perceived as a forum that bring together practitioners and researchers for sharing knowledge, introducing original insights as well as advancing innovational ideas. The aim of the workshop is to closely explore emerging challenges and opportunities in the field of blockchain technologies. Moreover, this time the audience attention shall be especially turned toward issues related to blockchain architectures, new business models as well as innovative applications, use-cases based on distributed ledger environments and standardization initiatives.
The workshop is open to any research or position papers describing current work relating to blockchain and smart contracts technologies with respect to applications, analysis, simulation results, proof-of-concept or innovative solution approaches.
Topics of interest
1) Blockchain technologies
a) Consensus protocols
b) Distributed ledger analytics
c) Innovative approaches and paradigms
d) System consistency
2) Cryptocurrencies
a) Impact on economy and society
b) Economic implications
c) Macro and microeconomic models for cryptocurrencies
d) Financial aspects of ICO
3) Smart contracts
a) Smart contracts deployment and maintenance
b) Smart contracts testing
c) Programming techniques
d) Development and runtime environments
4) Performance
a) Performance Measures of blockchain
b) Assessment of consensus protocols
c) Blockchain and Big Data
5) Security and Privacy concerns
a) Identity management in anonymous environments
b) Blockchain vulnerabilities and attacks schemes
c) Anomaly detection
6) Legal and organizational issues
a) ICO
b) DAO & Governance
c) Legal regulations
d) Data protection issues
7) Industry applications
a) Fintech, healthcare, insurances, fraud detection, supply chain, audit
b) Asset digitization
c) Distributed ledger & IoT solutions