28th Annual Securities Finance and Collateral Management Conference
28th Annual Securities Finance and Collateral Management Conference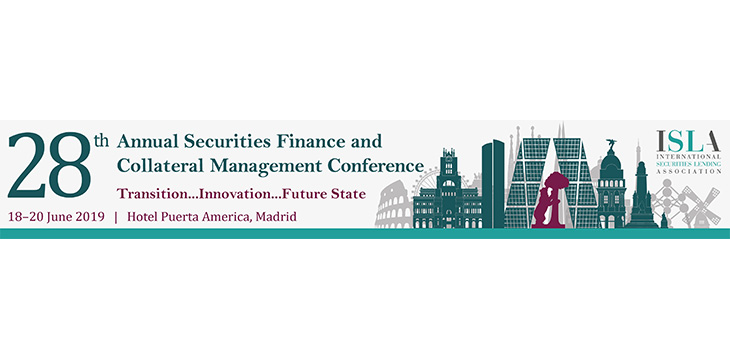 About this event
CLOSING KEYNOTE SPEAKER ANNOUNCED
ISLA is delighted to announce that this year's closing keynote address will be given by Tom Fletcher CMG – Professor at New York University, Former UK Ambassador to Lebanon and Author of the "Naked Diplomacy: Power and Statecraft in the Digital Age".
Tom Fletcher was the UK's youngest ever ambassador when he was appointed the country's representative in Lebanon. Prior to his posting he worked as a foreign policy advisor in Downing Street under three Prime Ministers. As well as lessons from dealing with actors in the uniquely combustible region, he considers the nature of leadership and negotiation, the power of social media, and the future of engagement.
Steven Maijoor has been the Chair of the European Securities and Markets Authority (ESMA) since taking up office 1 April 2011. He is the first chair of the authority and is currently serving his second five-year term. He is responsible for representing the Authority as well as chairing ESMA's Board of Supervisors and the Management Board. The role of the Board of Supervisors is to give strategic guidance to ESMA and make all main regulatory and supervisory decisions. The Management Board's purpose is to ensure that the Authority carries out its mission and performs its tasks.
This year's agenda, themed 'Transition, Innovation, Future State' reflects the current confluence of political and regulatory flows that will define much of our industry for the next 5 to 10 years. This will be our first major event after the potential exit of the UK from the EU, allowing us to reflect upon where the industry is in terms of the political transition period, the rolling impacts we are seeing and what we expect to happen next. 2019 will also see the industry complete its preparations for SFTR and CSDR compliance. Although in different ways, both will fundamentally impact trading and settlement processes and flows.