Imagine that Satoshi Nakamoto appears again and explains his background, plus the true meaning of Bitcoin. Well, that happened.
We have seen Dr. Craig Wright undergo three phases of being Satoshi Nakamoto. As of now, Dr. Wright is back stewarding Bitcoin. However, Dr. Wright's efforts go far beyond having invented Bitcoin and explaining its technical details to the world.
In a recent publication, Dr. Wright shares his vision statement, mission statement, and values statement in depth and in reference to the findings of others concerning the question of what ethical leadership means. From this, we can learn what Bitcoin is about in a broader sense. Bitcoin is not about anarchy and anonymity, but quite the opposite.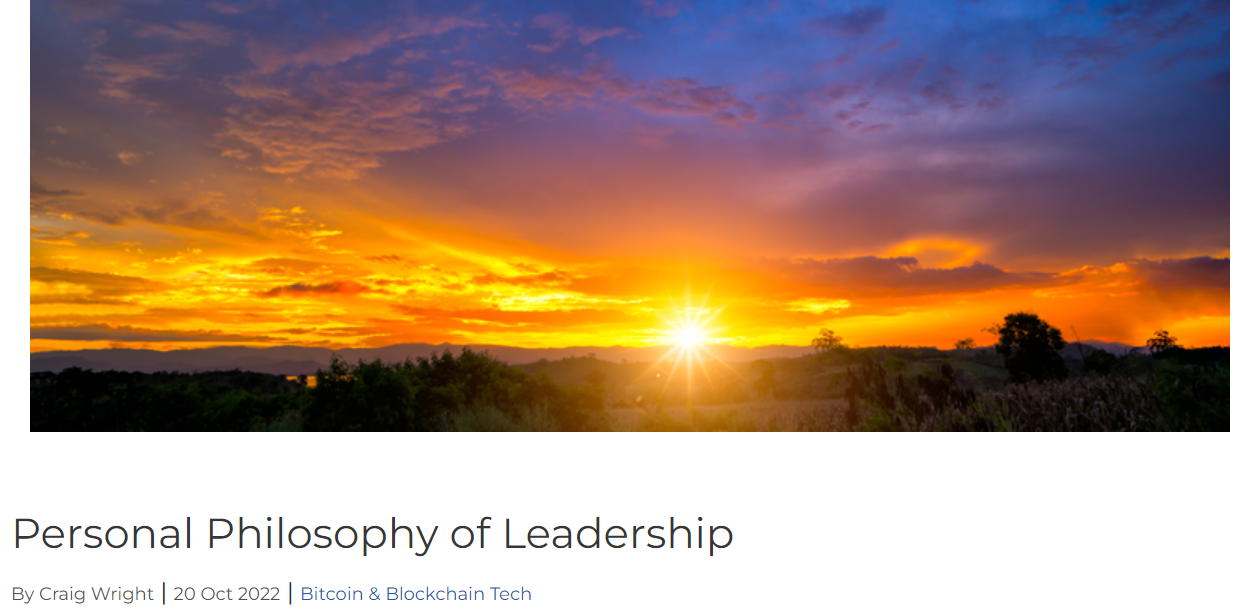 Dr. Wright's Vision Statement: Competition and education
Whoever paid attention to how Bitcoin was saved will realize that Dr. Craig Wright is the inventor of Bitcoin. What is his vision for Bitcoin as a technology, though? In the article, Dr. Wright states that he sees a world where individuals can compete openly and fairly while having the opportunity to educate themselves—if they would like to.
Furthermore, according to Dr. Wright, the competition between individuals shall be across international boundaries while leaving room for national and local culture. This reminds me of his statement a while ago, where he said that he sees a Victorian culture, but with technology.
Dr. Wright points out that he wants people to be tolerant, but have respect for different values in each culture, too. Which means there is no one world culture or the like where certain groups and their beliefs would be excluded from the mass culture.
"Through the toleration of difference and the rejection of that which is unjust, all of us can engage in open discourse and free communication to build a better world," Dr. Wright said.
Dr. Wright's Mission Statement: Bitcoin as an honest system
Dr. Wright created Bitcoin to offer the world a technical solution for a global source of truth. In his article, Dr. Wright points out that fraudulent financial activities have a tremendous cost to society. Fraud happens because ethical leadership was not considered, and technical circumstances made fraud easy to perform.
"It is necessary to train ethical leaders, but doing so alone remains insufficient and will not enable combating the increasingly excessive fraud rates. Consequently, during the late 1990s, I began working on solutions to this problem, seeking to develop a methodology that would enable corporations to maintain a single provable set of books," Dr. Wright remarked.
According to Dr. Wright, with Bitcoin, it becomes possible to implement a single set of values that can be proven correct across all industries. Criminals would have a way higher cost for avoiding prosecution in a Bitcoin-driven world, which eventually ends up in less criminal activity. Dr. Wright points out that his invention of Bitcoin shall be used to benefit society.
In the article, Dr. Wright references the Bible, specifically quoting Proverbs 11:1 with God's detestation of dishonest scales. Using Bitcoin, we have a scale that is honest and works in all industries as envisioned by its creator. That is why Dr. Wright is focusing on Bitcoin SV, the BSV blockchain, ensuring it cannot be mingled with as the protocol is set in stone.
It is part of Dr. Wright's mission to educate governments and law enforcement agencies about the true nature of Bitcoin. Right now, the public perception of Bitcoin is mainly driven by how people speculate on so-called "cryptocurrencies"—but this will change.
"Yet, it is necessary for me to take control of the protocol I released and govern the path of the technology I created that is following. For the same reason, I have instigated several lawsuits globally (Button, 2019) that will aid in educating law enforcement and setting the necessary precedents that will define how regulators and law enforcement understand Bitcoin going forward. As the creator of the system, I have a deep understanding of how it works. Because of this, I can file patents protecting innovations that extend my platform (Katopis, 2021) and guide the development path of blockchain-based systems globally," Dr. Wright reiterated.
Dr. Wright's Values Statement: liberal classical enlightenment
In his Values Statement, Dr. Wright refers to Adam Smith and John Locke and lists his personal values in a specific order:
freedom
truth
justice
rationality; and
aesthetics and beauty
This specific order is important to Dr. Wright, as he states that freedom is foundational but not limitless. Even though Dr. Wright honors different cultures, he believes that there are parts of a universal truth across all humanity. He sees the task of future societies in finding a balance between the individual's rights and creating a just society at the same time.
Personally, I understand Dr. Wright as a public person of foremost European culture, with noticeable Judeo-Christian influences. With Bitcoin, we have a technology that—if implemented correctly —enables the values stated above.
In understanding each of these concepts, we must be logical and rational and find a balance that delivers the best outcome while not allowing us to sacrifice our integrity.
Watch: Craig Wright Interview – Bitcoin & Moral Reasons – Part 3 of 3
New to blockchain? Check out CoinGeek's Blockchain for Beginners section, the ultimate resource guide to learn more about blockchain technology.