Editorial 11 September 2018
Erik Gibbs Why on-chain scaling is the better option
This year has brought a number of debates to the cryptocurrency world, as should be expected from an industry that has never been seen before. While some may have been trivial, quite a few have been extremely important and have long-lasting ramifications for the success of cryptocurrency as a viable currency. One of these has been the subject of on- or off-chain scaling and which is the better option. Exploring just the facts, and common sense, on-chain scaling, as that seen at the heart of the Bitcoin BCH network, is undoubtedly the better option. Dr. Craig Wright nicely sums up the benefits to the scaling option in a recent Medium post.
To understand why on-chain scaling is better, it's necessary to go back a few years. In 2009, software was effectively limited to a maximum of 32 megabytes (MB) due to software limitations. Ten years later, we are now in the midst of an era that sees gigabytes worth of data stored in a drive that is smaller than a finger. Data storage capabilities are constantly changing and technology now allows us to store more data in a smaller amount of space.
This principle is defined by Moore's Law, which states that technology allows for the number of components within an integrated circuit to double at a rate of about two years. Moore's Law initially anticipated the doubling effect would last for about 10 years, but is still going strong today.
The concept of Moore's Law is applicable to scaling because many opponents of on-chain scaling argue that there won't be enough space to handle the load when we look into the future. The following chart shows, in terabytes (TB), what the storage needs will be, looking out for the next 20-plus years.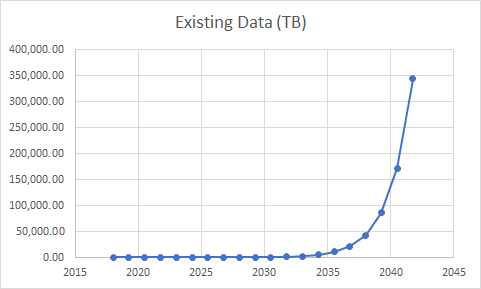 Since we know that technology is going to lead toward the advancement of storage possibilities, it is safe to assume that, as cryptocurrency gains adoption, the technology seen will be more than adequate to handle the load.
By 2030, 5TB of data sent on a crypto network would be an ideal number. Given the continued growth capabilities of data storage, this is easily achievable and is even possible with today's architecture, as shown in the following illustration: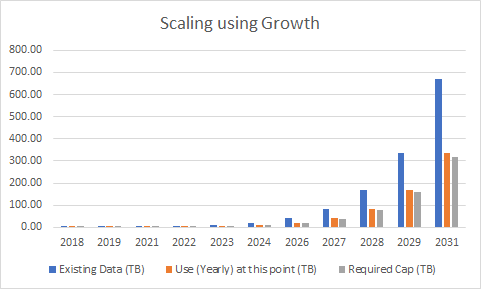 On-chain scaling also has the added benefit of providing continuity. Off-chain scaling breaks communication channels and adds additional layers to the transaction unnecessarily. "The shortest distance between two points is a straight line" is on-chain scaling, while off-chain scaling means that certain portions of the transaction process are removed from the sequence, creating a gap in the protocol.
In his post, Wright also points out that nothing special needs to be done in order to allow for on-chain scaling—no change in software, no adaptation of different protocols, no need to introduce steps that don't enhance the network; it's all already in place. What needs to change, though, is the mantra that "Home use and hobby nodes need to be subsidized."
Additionally, the original white paper for cryptocurrency showed quite clearly that on-chain scaling was not only feasible, but was the most accurate method. That design is what led to the creation of the world's first crypto. It was obviously valid enough then, so there's no reason to believe it isn't valid today.
Note: Tokens on the Bitcoin Core (SegWit) chain are referenced as BTC coins; tokens on the Bitcoin Cash ABC chain are referenced as BCH, BCH-ABC or BAB coins.
Bitcoin Satoshi Vision (BSV) is today the only Bitcoin project that follows the original Satoshi Nakamoto whitepaper, and that follows the original Satoshi protocol and design. BSV is the only public blockchain that maintains the original vision for Bitcoin and will massively scale to become the world's new money and enterprise blockchain.