Events 7 November 2018
Becky Liggero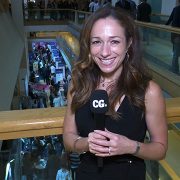 Becky's Affiliated: A personal invitation from Calvin: why iGaming companies should attend the CoinGeek Week Conference
"I think that the gaming space in particular is uniquely able to take advantage of what Bitcoin BCH, the original Bitcoin, can offer and the natural starting place is to come to CoinGeek Week. 
Bitcoin will change everything. Over the next few years you will not recognize the online gaming industry. The Bitcoin platform will eat all the other software out there. That's my prediction." –Calvin Ayre
Coming up on November 28th-30th in London is the highly anticipated CoinGeek Week Conference, an event designed to educate everyone, including iGaming professionals, on Bitcoin BCH and how the technology is set to change our world for the better.
"CoinGeek week is about a whole bunch of things. Its about ways we can integrate different industries into the crypto space and we're also going to have a focus at the end about the future of crypto currency", shared Calvin Ayre, Founder of Ayre Media Group and Special Economic Envoy to the Government of Antigua with a focus on Bitcoin.
"Its been 10 years now since Bitcoin was first launched, it will be 10 years in January and a lot of things have happened, but a lot of things have been done wrong. Its my prediction that 2019 will go down in history as the year of the return of Bitcoin, where people can see what Bitcoin was originally designed to do- it will be actually demonstrated", he said.
"Payments are going to be even easier in 2019 as the ecosystem grows around this payment platform with low cost, micro transactions and stability and as we've demonstrated, the ability to scale massively relative to any other platform that's out there", Ayre shared.
"But there is so much more", he added.
Just last week, CoinGeek.com announced a winner for their 5 million pound contest, a platform of tokens and smart contracts that layers on top of the original Bitcoin protocol without the need for any changes. According to Ayre, this will enable a whole range of different types of tokens such as security and utility tokens, the ability to do smart contract and probably things we haven't even thought of yet.
"Basically everything Ethereum can do can be done on Bitcoin BCH…and the difference is going to be the ability to scale with security. Ethereum doesn't scale and its been hacked numerous times. Its not secure. BCH scales, we've proven it, and its never been hacked", Ayre explained.
CoinGeek Week will feature an "add-on day" dedicated to miners on the 27th, one day dedicated to application development, a merchant adoption day and a day dedicated to the future of Bitcoin BCH.
"We have thought leaders from all over the sector coming there to talk about how they see things unfolding", Ayre revealed.
While iGaming professionals have expressed a great deal of interesting in crypto and blockchain technology, some have reservations due to the volatility of crypto currency value. Ayre is confident fluctuations in BCH value should not concern iGaming companies and that the volatility will disappear over time.
"[The value of Bitcoin BCH has] actually been quite stable for the last few months, so that's less of an issue, but its an immature technology, though [Bitcoin BCH] does work flawlessly, but over time volatility will decrease as the volume of transactions increases – that's just sort of a natural law of big numbers kind of scenario that will unfold, but there are ways in place already that you can shield yourself from volatility by converting back into fiat", Ayre explained.
"Though, I personally predict now that this smart contract and token platform has been unleashed and the original Bitcoin has been out for a year and there's been a whole lot of development that's been happening – a lot of it people don't even know about it and that's going to start coming to the surface over the next little while – I predict that there's going to be a lot of excitement", he said.
"I just think that over time [the volatility] is going to disappear because just the sheer volume of transactions. That will happen naturally from the ability to do things low cost but secure micro-transactions and will iron out all the oscillations in the market", Ayre added.
First-moving iGaming companies in the blockchain space have flocked to Ethereum, but now with the ability to tokenize on the Bitcoin BCH chain, the question of which platform to use is a no-brainer.
"Lets start with some history. The only reason Ethereum exists is because the Core people who high-jacked the original Bitcoin and took it off in the direction away from being digital money and into the direction of being what they call 'digital gold' is because the people behind Ethereum wanted to do tokens on top of the original Bitcoin", Ayre explained.
"[Ethereum] went their own direction, but of course they tinkered with the underlying code so they are not actually a direct copy of Bitcoin, they thought they were improving it, but I don't think they actually understand what they are doing", he said.
"Ethereum has been hacked multiple times and it doesn't scale. Its been taken to its knees by a little app that was about cartoon kitties- cats. It doesn't work. But its been an interesting place to test out certain things, but it doesn't scale and its not secure, so you can't actually do anything enterprise on there", he added.
"The solution has always been to bring back the original Bitcoin which is Bitcoin BCH and to put the token and smart contract platform on top of the stable Bitcoin platform. That's what exists today and a lot of people said it couldn't be done and we've proven it could", Ayre revealed.
For those of us who remember the Bodog Conferences in 2004 and 2005 and the slew of Bodog and CalvinAyre.com-branded parties that followed, the CoinGeek Week Conference after party will be a resurrection of the "good old days", with a new crypto twist.
"Yes, we do have a closing party and its probably not going to cost me as much as my parties used to back in the old days because I don't drink as much as I used to. So I'm going to have a substantial cost-saving there I'm sure", Ayre said with a big smile.
"I still like to party just as much as I did before, so we're going to put on quite a show and I actually have the original team with me that produced all the big smash Bodog hit parties, so this will be a Bodog party, with a different brand. But ya, it should be quite the show!", he revealed.
This article was first published on CalvinAyre.com.
Note: Tokens on the Bitcoin Core (SegWit) chain are referenced as BTC coins; tokens on the Bitcoin Cash ABC chain are referenced as BCH, BCH-ABC or BAB coins.
Bitcoin Satoshi Vision (BSV) is today the only Bitcoin project that follows the original Satoshi Nakamoto whitepaper, and that follows the original Satoshi protocol and design. BSV is the only public blockchain that maintains the original vision for Bitcoin and will massively scale to become the world's new money and enterprise blockchain.